Why it is important to do Paytm KYC online verification? Using the money (or cash) in the Paytm e-wallet, you can pay for several goods without utilizing hard cash. Paytm is a digital payment application (or platform) that empowers its users to transfer money into the integrated e-wallet through debit cards, online banking, and credit cards. Money transfer is also done by transferring cash by selected banks and partners. Paytm stands for "Pay through mobile and pronounced similar to ATM". It is an Indian e-commerce payment system. Transactions via Paytm is completely secure. Also, it never stores the user's CVV no to ensure their Debit and Credit Card details.
It is quite mandatory these days to have a KYC verification for your e-wallets. This came into the action after the new guidelines by RBI were released sometime back. So as per the guidelines, it is now mandatory for all the wallet providers to ask their users to get KYC done for them.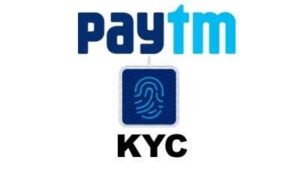 The RBI believes it is a step towards decreasing online crimes like identity
 theft, frauds, etc. it will be a good enough database to support the financial system not only at a micro-level; but also on the macro level. The new guidelines make it mandatory to form a linkage between Aadhaar to Paytm for KYC completion. Aadhaar is managed by the Unique Identification Authority of India (UIDAI) in India. All the information that is uploaded in the Aadhaar card, are completely secure because UIDAI is not accessible to public and private agencies.
Now you might feel that the procedure involved would be chaotic and messy but it isn't so. On a contrary basis, it is quite simple and free from any kind of investment. To attract more and more users to have their KYC done, many partner sites offer cashback once you have completed the procedure. As per the guidelines, the new and old will have to provide minimum KYC details in the form of mobile number, name, and identity proof. It is compulsory for new users to provide these details at the time of registration. In case the user fails to provide these details for the KYC procedure, they would lose the ability to transfer money to other Paytm wallets and other existing accounts.
Categories of PayTM KYC
For information, it is important for you to know that PayTM KYC is mainly categorized into different types. They are Full KYC, minimum KYC, and self KYC. When it comes to complete the PayTM KYC online, then it mainly requires the aadhar number of the user who wants it. When you are looking forward to completing the process, then it can be done with the support of mobile applications. In case, if you are not done a linking mobile number with aadhar number, then it is necessary for you to request a home visit when it comes to PayTM KYC verification process. Linking Aadhaar card to account (Paytm) is the method of a business identifying. It is also, a procedure of verifying (or confirming) the identity of its users. KYC procedure helps to guarantee that its services are not maltreated.
On the other side, you can also handle the PayTM KYC in three different ways that whenever required. If everything is managed to handle, then you don't need to be worried about it. At the end of the day, you can do handling with PayTM KYC process.
Toward completing KYC in the Paytm application, firstly download the Paytm application or user can also, may visit http://Paytm.com website. http://Paytm.com is the Paytm's official website. Then the user will perceive on the first-page an option of "complete KYC". Now, just tap that option. The user will be required to submit some scanned copies of his/her documents. This process is only to verify KYC in the Paytm application. Documents required to verify are Pan card, Aadhaar card, Voter id. Paytm has explained that without doing KYC, transactions are not permitted to the Paytm users.
Key Points to be kept in mind for Paytm KYC online verification in accordance with RBI Guidelines
The guidelines suggest that new users will have to provide the required KYC details compulsorily for the completion of minimum KYC during signing up with any e-wallet services. For this purpose, the costumers are asked to present a valid identity proof. Doing this would enable the customers to enjoy certain services through Paytm but not all services are given. Until the complete KYC is performed, customers would not be able to keep more than Rs. 10,000 in their wallets. Also, they will not be able to send money to other wallets or accounts.
Also, the new users are supposed to complete their entire KYC process and linkage of their Aadhaar to Paytm within a stipulated time period of 12 months.
How to Link Aadhaar to Paytm KYC online verification
The first step is to download the app and then opening it in your mobile to showcase the 'Home Page'.
The next step is to select the 'Link Aadhaar' icon
The system then demands the user to enter their 12 digit Aadhaar number with their name. After filling it, go the next step for further procedure.
The next step involves entering the address and 'Request an Appointment'
Once the request is successfully completed, you would be given an appointment within 24-48 hours.
On the appointed date and time, you are asked to visit the Aadhaar center near you with the original Aadhaar card and PAN card for verification purposes.
At the center, you will have to provide your Aadhaar card, PAN card and the registered Paytm mobile number to the agent.
After giving the details, the agent would want you for fingerprints verification in order to complete the KYC procedure.
FAQs
Q1: What is the time-period of appointment when the KYC request is successfully completed?
Ans: Once the KYC request is successfully completed, it will take 24-48 hours for an appointment.
Q2: Can the Paytm user transfer money without KYC?
Ans: Paytm has explained that without doing KYC, transactions are not permitted.
Q3: Is linking Aadhaar to Paytm Safe?
Ans: Yes, linking Aadhaar to the Paytm is completely safe.