How To Update Mobile Numbers on Aadhaar Online Using IPPB: India's Department of Telecommunication (DOT) mandated the linking of Aadhaar with mobile phone numbers, in order to improve the identification and security of mobile SIM card users. However, there may be times when you need to update your number, which was connected to your Aadhaar previously. But, how can you do so? The good news is that the India Post Payments Bank (IPPB), also known as Doorstep Banking Service Request, provides a simple and quick way for you to change your Aadhaar-linked mobile number online through their website, ippbonline.com. It's important to note that both customers and non-customers can use this service.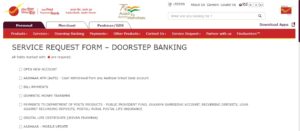 Steps to IPPB Aadhaar Mobile Number Update
You can quickly update the mobile number on your Aadhaar card by following these steps to do so online through IPPB:
Step 1: Open the web browser whatever you use, Chrome, Firefox, or any other on your PC or mobile device. Go to the official IPPB website (https://ippbonline.com/).
Step 2: Search for the "Service Request" option in the top red bar (menu).
Step 3: You'll have two choices, one for IPPB customers and the other for Non-IPPB customers. Pick any option that best suits your needs, we will go with the second option.
Step 4: Now, tap on "Doorstep Banking", which is under Non-IPPB customers. Afterward, you'll be sent to a page titled "SERVICE REQUEST FORM – DOORSTEP BANKING."
Step 5: Locate "AADHAAR – MOBILE UPDATE" from the menu and press on it. A form that needs to be filled out is located further down the page.
Step 6: If you agree with the IPPB's terms and conditions, check the box after providing the necessary information.
Step 7: In addition, fill out the "Text Verification" box with the provided captcha code before tapping the "Submit" button. You'll get a confirmation notice after submitting, saying "Your submission has been successful."
Your first step in the mobile number update process is now complete. In the second and final stage, IPPB representatives will come to your home after confirming the day and time to update the mobile number linked with your Aadhaar. Your fingerprints will also be collected for authentication during this visit and your request to update your mobile number will be raised as soon as authentication is finished.
After that, on your registered mobile number, you'll receive an "update request number', and they will approve your request within one to two business days.
Note: It should be noted that this service may be subjected to a small fee. And, for those who prefer an offline way, a visit to the nearest UIDAI Aadhaar Kendra is necessary.
By following the steps mentioned above you can update your Aadhaar information online through the India Post Payment Bank portal at your own comfort. Stay connected, stay secure, and enjoy the benefits of having a linked Aadhaar card and mobile number.