Today, Aadhar card has become a significant document for everyone in the country and This card is managed by the Unique Identification Authority of India (UIDAI) in India. The good point of Aadhar card is that information which is uploaded in cardholder's Aadhar card, is completely secure because UIDAI is not accessible to public and private agencies. As long as requirements and conditions are fulfilled, the UIDAI will allot an Aadhaar card to that person. Also, the Aadhar Enrolment procedure is completely free of cost.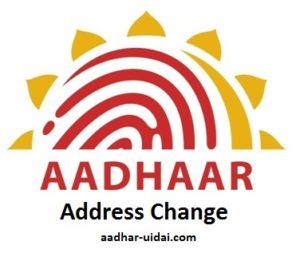 Aadhar card is used as an ID to open an account in a bank or passport that has to be made. Aadhar card allows the government units or service providers to coordinate and also, optimize several schemes. In such a situation, if the wrong address has been printed in your Aadhar or you are changing your home, then it is most important to first change your address in the Aadhar card. It means if there is any major mistake in the address of Aadhar cardholder's card then it is mandatory to update that. Aadhar cardholder may update his/her address via both processes, offline and online. The offline process of updating Aadhar is a time taking process; whereas, the online process of updating Aadhar is less time taking. Updating the Aadhar is also, mandatory because this card works a cardholder's identity, and, in any case, if the government found cardholder's details mismatched or wrong then the cardholder will be punished.
To change the address in the Aadhar card, a cardholder does not need to spend hours in a long line because he/she can change the address in the Aadhar card with the help of online service in a few minutes. UIDAI website Aadhar card update online facility is available for this. While updating or changing the address of cardholder's card via an online process, a good speed of internet connection is necessary because a slow internet connection will make a process time-taking.
To change the address in the Aadhar card, you must have some important documents that are asked for as proof. In this, you can use a passport, bank statement, bank passbook, ration card, and voter id. Details or information printed on scanned images should be clear. After self-attested, you have to upload the scan copy here.
To change the address in Aadhar card, follow some simple tips, after which your address will be changed in a few minutes. But keep in mind that in order to change the address in Aadhar, you must have a mobile number that is added to your Aadhar card. Because an OTP will be sent to registered number and only after inserting it you will be able to make any changes. OTP received on your registered contact number will be valid for only 30 minutes. Kindly do not share received OTP with any other person. With the help of the following steps, the cardholder can change his/her address in Aadhar card easily:
Steps to change aadhar address online:
To change the address in Aadhar card, firstly you have to visit the official website of UIDAI, where you will get the alternative of Aadhar card Update Online.
After clicking, a new window will launch in front of you for the address update. Now, enter your Aadhaar number and log in.
After entering the Aadhaar number, you will receive an OTP on your mobile number that is only valid for 30 mins, after which the portal will open.
Click on the address alternative provided there to log in the portal, then a form of Aadhaar update will open there. Here you will have to fill some of your necessary details.
After filling the entire information, check once suitably that zero mistakes have been done. After that, click on the Submit Update Request button.
After this process, there will be an alternative to upload the document. Upload the scanned copy of the document there and click on the Submit button.
After completing the entire steps, choose the option of BPO service provider and submit the final after clicking the Yes button there. Subsequently, an update request number will come on your mobile number, keep it, or download the acceptance copy and take out the print.
How to change Aadhaar card address offline
If you don't have access to internet or you having some issues like not getting otp while updating your address online, you can update it by visiting Aadhaar Kendra or Aadhaar Enrolment Center. You can locate nearest Aadhaar Enrolment Center through this link. Just open the link and put Pin code of your area, you'll get a list of centers where you can go and get updated your Aadhar Card Address. Keep these instructions in mind before you visit the center.
Before you visit, keep the old and new address written on a paper to avoid any mistake.
Keep a copy of identity proof and valid address proof in case if it's needed.
Keep the mobile phone with yourself that is linked with your Aadhaar card.
It will take some time to change address on your card.
Once Changes have been made, you can download e-aadhaar card or order a Aadhaar PVC card from UIDAI website.
How To Request Change In Address By Post?
You can also request to change address in your aadhaar card through post. Here's how.
Download the AADHAAR ENROLMENT/UPDATE FORM from UIDAI website.
Print out this form.
Fill all necessary details asked in the form.
Attach a copy of your current address proof.
Once you filled all your details send it to any of these addresses:
First address – UIDAI, postal box No. 10, Chhindwara, Madhya Pradesh – 480001.
Second Address – UIDAI, Mailbox No.99, Banjara Hills, Hyderabad
FAQs
Q1: Does the cardholder receive a new Aadhar card after changing the address?
Ans: Yes, the cardholder receives a new Aadhar card after changing the address. It will take a month.
Q2: Does the Aadhar card is proof of citizenship?
Ans: No, Aadhar card is not proof of citizenship. It is an identity card of the cardholder to prove his/her identity.
Q3: Do the data upload in Aadhar card is unsafe?
Ans: Aadhar card is managed by the Unique Identification Authority of India (UIDAI) in India and UIDAI is not accessible to public and private agencies. So, all the data upload on Aadhar card are completely safe.