Aadhar card link to Voter Id | aadhar card correction | aadhar card status enquiry phone number 
Gone is the era when forcibly capturing polling booths for rigging votes in favor of a particular candidate was committed publicly by unscrupulous elements at the behest of local bullish leaders of the society which administration and police would watch helplessly.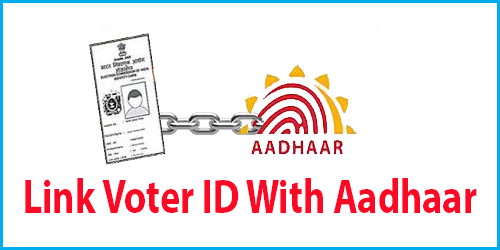 Behind such offenses used to be none other but the regime itself. Poll rigging used to be pre-organized under which the ballot papers were seized, stamped in bulk with a party symbol in favor of one candidate, and put thereafter straight into a ballot box. Such kind of public booth capturing and poll rigging had raised questions over the impartiality of administration itself which with EVM has become a matter of past. With EVM machines the booth capturing or fake voting has unbelievably been stopped. What makes the citizens entitled to exercise their franchise during the election is a Voter ID card that is counted in preparing a list of eligible voters by the election commission.
Also Read: How to register for voter ID card online?
What is Voter ID or EPIC?
Also known as EPIC (Electoral Photo Identity Card) the voter ID card is issued officially for the voters to cast their votes. But EPIC was found to have lots of loopholes which needed to be plugged ineffectively for which the election commission has declared linking Aadhaar card with voter ID card compulsory. This condition though has yet not been propagated through press/media in the country it has got to be declared mandatory very soon. To learn how to link your Aadhaar card with the voter ID card or EPIC so that all the chances of being deprived of casting vote during the election doesn't arise as an obstacle.
Why link Aadhaar card with a voter ID card?
This question is natural to be fired on as the voter ID card (EPIC) issued by the election commission of India itself is a powerful identity-authenticating document. But the practice of several fake voter IDs by the same person called for identity's authentication that made interlinking or seeding voter ID cards with Aadhaar card indispensable one. The Aadhaar card is a biometric document that establishes the person's original identity biometrically (iris & finger images) and thus checks fake voter IDs.The election commission has launched a full-fledged website to help the voters to link their Aadhaar card with their voter ID card. EC believes that linking or seeding the voter ID card with Aadhaar card will bring remarkable improvements in voting pattern ensuring a 100% fair election.
Link Aadhar through SMS and phone
In order to link your Aadhar number with voter ID, then it is necessary for you to follow some of the essential things without skipping it. For information, you can even find various methods to follow that while handling through SMS as well as phone. If you are looking for a better process to experience, then you need to link the aadhar number with voter ID. Now, make sure to send the SMS to 166 or you can go ahead with 51969.
On the other side, people who want to link through the phone, then it can be done by calling the centers. Even you can just call 1950 during the weekdays. When it comes to time, then it can be between 100 am to 5.00 pm. Make sure to offer your voter ID, if you are looking forward to completing the purpose of linking at any time.
Also Read: How to link Pan card with aadhar card?
How to link Aadhaar card with voter ID card?
If you've taken resolve wipe outcrops of corrupt and bullish politicians with the power even of the single vote then you should start from your own end the process of interlinking Aadhaar card and voter ID through for free and fair election in the country. So go through the content being written on how to link Aadhaar card both online and offline with voter ID cards.
Link Aadhaar Card with Voter ID-Card – Online
The election commission has launched a separate website to help the Indian citizens to link their Aadhaar with their voter ID. So seed your Aadhaar with EC-issued voter ID card now by following the instructions being mooted out here.
Visit the official website of NVSP (national voter's services portal), launched by the election commission itself for helping Indian citizens to seed or link Aadhaar card with the voter ID card online. You may reach the site even directly by clicking on here.
Open your EPIC or voter identity by entering EPIC or voter ID card, name of your state, and captcha.
OR
Search your Voter ID online by entering your personal details such as name, age, district, father/husband's name, date of birth (DOB), constituency/assembly, gender, etc. Correctly enter the captcha also and click on the 'search' option. [You must adhere to this option provided you are not equipped with an EPIC number]
On coming across your voter ID card online you will see an option 'Feed Aadhaar Number' on the respective web page. Click on it
A window will pop up prompting you to enter your name as mentioned in the Aadhaar card, voter ID card number (EPIC), Aadhaar card number, and mobile number/email registered with Aadhaar. Follow the instruction and click on "submit".
You will notice a confirmation message of the successful seeding or linking of your Aadhaar card with the voter ID card of yours.
Link Aadhaar card with Voter ID Card – Offline
There are three ways of linking your Aadhaar card offline with voter ID. First – by physically visiting local election office or meeting BLO, second – by SMS and third – by phone.
Visiting Local Election office: Visit local election and fill up a form hand over it to the BLO (booth level officer) furnishing details of your voter ID and Aadhaar card as well. This is the easiest way that anyone else can do easily. It can be confirmed after a few days.
Sending SMS: You can link your Aadhaar card with EPIC or voter ID through SMS as well by messaging from your registered mobile number to 51969 or 166 the following details typing
"ECI LINK- Voter ID or EPIC Number – Aadhaar Number" [There should not be any gap between ECLINK, EPIC number, and Aadhaar number]
Phone Call: The Voter ID or EPIC can be seeded with Aadhaar by phone call as well. Take a look at how you can seed or link Aadhaar card with the voter ID card of yours by phone call. Call 1950 from any of the Aadhaar registered mobile number and follow the interactions. You should be equipped with EPIC and Aadhaar card prior to linking or seeding Aadhaar card with a voter ID card.
[Calls for seeding Aadhaar card with voter ID card can be made between 10 am to 5 pm from Monday to Saturday.]
Comment below If you have any queries regarding aadhar card with voter ID
If you want some issues in aadhar card then you can call at aadhar status enquiry phone number