Aadhaar card is a mandatory document authenticating both identity and address of individual in India and so is indispensably needed to be linked with almost all types of services and schemes consumed by the citizens of the country.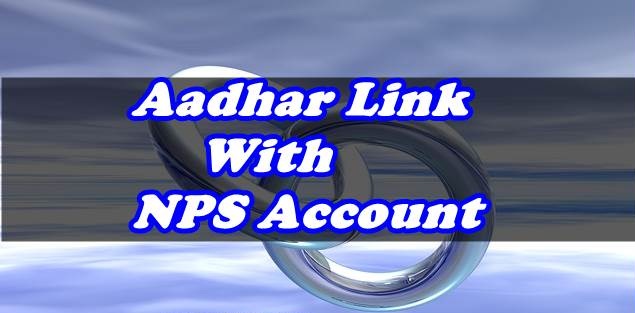 Be it bank account, mobile service, subsidy (LPG/PDS), health service or insurance schemes they all must be linked with Aadhaar card. The government employees' identity has never been questioned so far but with government of India declaring the biometric document (Aadhaar) mandatory it's linking with NPS account or pension is required urgently for the authentication and transparency of the beneficiary. Aadhaar is based on person's biometric details to be authenticated through his/her thumbnail, fingers and eyeballs. It can be linked online with many government schemes and services on the UIDAI's official website. So linking Aadhaar card with NPS account for all the government employees has emerged as a prerequisite for drawing pension and utilizing other after-the-retirement benefits which is being shared on this webpage.
What is NPS?
NPS actually is a system keeping the records of pensioners in India. Being a government employee anyone else can open a new permanent retirement account number (PRAN) also known as NPS (national permanent system) account that keeps the records of pensioners.  The upper age limit for new PRAN was 60 which increased to 65 for all the NPS based accounts.
NPS has been categorized as Tier 1 and Tier 2 pension schemes. Under the Tier 1 pension a contributor cannot withdraw money before being 60 years by age excepting in exceptional situations. But Tier 2 pension doesn't impose any such restriction and allows the account holders to withdraw money prematurely as per their requirement.
Even a NRI can have the benefits of PRAN without any restriction of withdrawal limit by regularly depositing a particular amount in PRAN or NPS account. The NRIs can withdraw entire amount but yet continue with their account till the age of 70 years.
Minimum amount to be deposited annually in NPS account or PRAN or PRAN, linked with Aadhaar card, should not be less than 6000 rupees per year i.e. 500 rupees per month.
The pensioners with their NPS account linked with Aadhaar are entitled for rebates in taxation but only after 1.50 Lakh rupees are deposited into their account (PRAN) under the national pension system (NPS), a central record keeping agency of India.
Under Tier 2 pension scheme the government employees contributing for PRAN (permanent retirement account number) can withdraw as much money from their account as they want for the sake of marriage of their son/daughter, purchasing house/property, undergoing treatment or any other crucial purpose but only ten years after opening the pensioners' account.
So those who have a pensioner's account under NPS should link their NPS account with Aadhar card so as to continue with all the after-retirement services. Any failure on their part can deactivate their PRAN or pensioner account.
The employees with PRAN under NPS account have option of utilizing their money choosing any of the lucrative schemes as well.
What is PRAN?
PRAN actually is an acronym of (permanent retirement account number) which many of you might yet not be introduced with. So you should be well aware of the term when seeking to learn how to link the Aadhar card with the NPS based pensioner account. NPS actually is a system under which the PRAN (permanent after-retirement account number) or new account is opened. The account holders do not face financial crisis after getting retired but many pensioners' account has yet need to be linked with Aadhaar while the new government employees are in a queue to open NPS account and link it with Aadhaar card.
Money Required to Open NPS Account
500 rupees is the minimum amount to be deposited per month in NPS account till 60 years of age of the employee. But respective NPS account should be linked with Aadhaar card also, without which the services have got to be stopped.
The amount deposited is returned with interest after the retirement of the employee. Shortly known as PRAN the account for pension can be opened by any government servant under the age limit of 18 to 65. Opening a pensioner's account is not all if the NPS' pensioner account is not linked with Aadhaar.
How to Link NPS Account with Aadhar card – On UIDAI Website?
You can link your NPS account with Aadhar card on UIDAI's official website and selecting "Aadhaar Update" option. As the topic revolves only around linking NPS account with Aadhaar number we are sharing over here the procedure of online linking of NPS account with Aadhaar card.
Visit the official website of UIDAI or click on here
Select "Aadhaar Online Services" and click on "Aadhaar Address Update" To link NPS account with Aadhar card.
How to link Aadhar card with NPS account – on NSDL Website?
Whether you contemplate on learning how to link NPS account with Aadhar card or linking Aadhaar card with NPS account, the purpose will be served equally. The NPS (national pension system) account, also known as PRAN (permanent retirement account number), can be linked with Aadhaar by reaching the official website of NPS (national pension system trust (NPST) or clicking on here . The government employees who are opening their account of pension (PRAN) first time should visit NSDL site to interlink NPS account and Aadhar card with each other.
Visit official website of NSDL (national securities deposit limited), a central record keeping agency to link your NPS account with the Aadhar card by clicking on here.
Click over the "Update Details".
Select "Aadhaar/Edit" option to enter Aadhaar number
Enter one type password (OTP) received on mobile registered with Aadhaar on UIDAI.
Click on 'submit' and this is how you will link NPS account with Aadhar card successfully.
Essential things to be remembered while linking NPS with Aadhar
It is important for the people to follow certain things while getting linked NPS with Aadhar. If you want to follow some points and keep them in mind, then you can follow all the points which are mentioned below.
The name which is mentioned in the PRAN should be matching with the name mainly mentioned in the Aadhar card.
If you have submitted the Aadhar during the time of subscription, then it is necessary for you to follow the linking process of Aadhar-NPS.
By following the Aadhar OTP authentication method, you can witness the linking process of Aadhar with NPS.
In terms of getting the right facility, make sure to keep it in mind that your number should be mainly registered with Aadhar. Also, it is necessary for you to link the mobile number with Aadhar without missing it.
After the respective Nodal officer is mainly accepts the request, then the Aadhar seeding when it comes to government employees will be considered.
Benefits of Online Linking of NPS Account with Aadhaar Card
Hassle free – Online linking the Aadhaar with NPS provides freedom from crowds of visitors standing in the queue. With government of India ordering the government employees to link their NPS account or account of pension, also known as permanent retirement account number (PRAN), with Aadhaar, has become necessary which if overlooked can cause the account to become dysfunctional.
Terms of Conditions of Linking NPS Account with Aadhaar Card
Take printout of newly open PRAN account and send it through courier with your signature to the CRA within six months of opening account. If you fail to do so then newly-opened pensioner account (aka NPS Account or PRAN) will be deactivated.
Link NPS account with Aadhar card online rather than visiting nearby office.
If you are a senior government-employee with a NPS account then you must think only of linking it with Aadhaar while being a new employee you must focus on opening a new NPS account and linking it with Aadhaar card.
Make sure that all the personal details furnished by you to link NPS account with Aadhar card are same. If there is any randomization of information then you must furnish the hard copies of both PRAN/NPS account and Aadhaar card so as to bring into notice the matter prior to linking your Aadhar card with NPS/PRAN account.
With detailed information on how to link NPS account with Aadhaar card you might have understood what the Aadhaar card actually is known for. If you are new to aadhar card and haven't applied yet, you can get the information regarding apply for aadhar card from here.
You may also see "Aadhar self service update portal" 
Comment below if you have any queries regarding Link NPS Account with Aadhar Card