Udyog Aadhaar registration|  Registration with the ministry/department of MSMED: India would have emerged as one of the leading Industrial countries in the world provided new enterprise would have been promoted with simple and easier licensing laws. The terms and conditions for setting up new enterprises in India were too lengthy and complicated to be followed that in turn encouraged corrupt officials of the industrial department or MSMED (micro, small and medium enterprises department)to immodestly demand bribery from the entrepreneurs. Those who plunged deep into the sludge of corruption managed to survive while the opposing ones tasted immense frustration and compellingly dropped the idea of setting up a new business entity due only to hindrances of complicated Industrial policies, requiring registration. But ever since Aadhaar Card has been made mandatory in the country the practice of extorting money by the corrupt officers for clearing enterprise's registration has to a large extent been checked.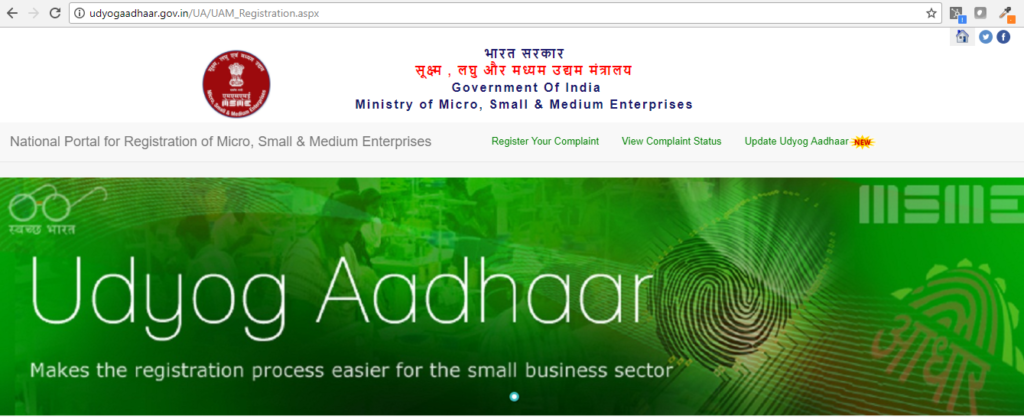 The Aadhaar card allows online registration of enterprises ensuring 100% transparency in the registration of enterprises. Such type of Aadhaar based online Udyog registration is known as Udyog Aadhaar registration. With the Udyog Aadhaar registration, available on the official website of MMSME, the practice of embezzlement has become a matter of past and so has gone into oblivion. So what are you waiting for? Go ahead and flourish your business by accomplishing registration online under the Udyog Aadhaar registration service.
What is Udyog Aadhaar
Udyog Aadhaar, also known as Aadhaar for Business, is a 12-digit government identity number issued by the Ministry of MSME to small and medium businesses who want to register as MSME.
A lone proprietor company owner, unlike other business entities, does not have formal recognition of his firm. Udyog Aadhaar is highly recommended for sole proprietors who do not have official government recognition since it allows the alone owner to obtain a unique identity and formal registration with the Government of India, which verifies the existence of his firm. The main goal of this service was to provide a mechanism for the government to deliver the most benefits to medium and small-scale firms and industries in India that are registered via MSME using their Aadhar Card Number.
The entity's owner, director, or proprietor must supply his or her 12-digit Aadhar Number. This is a legal need, whether the business or entity is a sole proprietorship, an LLP, a private limited company, or anything else. It should have a certificate of recognition obtained via the MSME registration process. The Udyam Registration procedure is simple, as is the form filling procedure. Today's system has been revitalized, and it seeks far less data than the previous system. It's vital to know that MSME registration is free, and the website doesn't collect an official fee for producing a certificate of registration.
Benefits with Udyog Aadhaar Registration?
Registration with the ministry/department of MSMED (micro, small and medium enterprises department) provides financial assistance, infrastructural facilities, and assistance in all kinds of services. But lengthy and complex criteria of the industrial department of the government of India that has been one of the major impediments for registration, as of now, kept the business a far-fetched issue for the entrepreneurs. It is the Udyog Aadhaar registration introduced recently that has resolved the several decade's old menaces unbelievably. The Udyog Aadhaar registration promotes small and medium entrepreneurs procuring them all the crucial services including finance and infrastructures for development.
Difficulties Enterprises Faced Earlier in India
Earlier the new factories would not have been given approval easily unless they fulfilled a lengthy process of licensing in accordance with the terms and conditions of the then Industrial department. In other words, the registration for setting up a new enterprise in India was projected earlier as a lengthy and most complicated issue by the corrupt officials whose sole motive was to extort money in the name of granting permission/license for the sake of setting up new factory or enterprise anywhere in the country.
In order to mount pressure on the entrepreneurs the license-issuing authorities used to put forth much complicated and lengthy process for registration which today has ceased to persist with the Aadhaar based registration, aka known as Udyog Aadhaar registration, available online.
Udyog Aadhaar registration service has emerged as a boon for the entrepreneurs as it has totally removed the role of intermediaries/brokers also who would have charged a heavy amount of money as their fees for delivering their services for registration that newly introduced Udyog Aadhaar registration has thwarted.
How to Make Udyog Aadhaar Registration?
For Udyog Aadhaar registration you need to visit the official website of the government department of micro, small, and medium Enterprises department and follow the procedure step by step for online registration to Udyog Aadhaar. The online Udyog Aadhaar registration is a simple and easiest way of accomplishing the registration authenticating with the entrepreneur's identity.
For Udyog Aadhaar registration there needs only the Aadhaar card or its 12 digit number and PAN.   Apart from the mobile number registered with Aadhaar. Within 48 hours the registration of enterprise with Aadhaar is accomplished successfully.
Visit the official website of Ministry of MSME or click on here
Select 'Update Udyog Aadhaar' and click on it
Enter 12 digit Aadhaar number
Select any one option out of three for receiving OTP for Udyog Aadhaar registration.
The options are –
1. OTP to be delivered on mobile number linked with Aadhaar.
2. OTP to be delivered on the mobile number mentioned in the form for Udyog Aadhaar registration.
3. OTP to be delivered on the Email mentioned in the application for Udyog Aadhaar registration.
Enter verification code
Click on 'validate and generate OTP' to proceed on another page to accomplish Udyog Aadhaar registration
Type your name as mentioned in your Aadhaar card. Even a minute difference will not help you accomplish Udyog Aadhaar registration successfully
The Udyog Aadhaar registration website provides resetting option as well so that individuals can register many rimes for the Aadhaar Udyog registration
Select cast category from SC/ST or OBC
Select gender from male, female or others
If you are handicapped mention it filling the details on Udyog Aadhaar registration form
Enter the name of the enterprise you want to register with Udyog Aadhaar. You can also enter more than one name of enterprises to be registered with Aadhaar. Under this option, the applicant (entrepreneur) can enter the names of many enterprises for online Udyog Aadhaar registration exhibiting them as Enterprise 1, Enterprise 2, etc.
Select the category of the enterprise (legal entity) out of the list given on the page for Udyog Aadhaar registration. A different number is issued for each of the enterprises to be registered through Udyog Aadhaar registration
PAN is a must for Udyog Aadhaar registration provided the enterprise is a limited company (private or public) or any financial institute. But it will be optional for other entities
Select location/s of the plant is to be set up through one registration
Enter the residential/official address mentioning area/locality, street, district, state, and prominent landmark and area PIN code very clearly. Unclear address on the application form of Udyog Aadhaar registration can cause your application to be rejected. You must mention your Email and mobile/landline number as well so that you can be contacted by the officials for the next process of Udyog Aadhaar registration.
Mention the date of your enterprise's or business entity's string operation/function
Mention, if any, the official communication made to you on behalf of the MSME department ever in the past after applying for Udyog Aadhaar registration
Give the details of your bank revealing the name of the bank, account number, IFSC, etc. Make sure that this section doesn't miss anything as any scantiness can cause Udyog Aadhaar registration to be canceled
Highlight the activities of your entity selecting "activity" or "services". If it deals with both manufacturing and services then you should select the "manufacturing" option while in the remaining case the "services" option will suffice
Select NIC to be generated by the CSO while applying in Udyog Aadhaar registration. You can select many at the same time by clicking on "add more" and finishing with the 'select' services. Following the instructions mentioned on the respective webpage for Udyog Aadhaar registration, you can select 2 to 5 digit code and get code selected them automatically
Mention the number of employees/workers working in your enterprise/entity/organization revealing their monthly salary/wages on the Udyog Aadhaar registration webpage
Reveal the details of investment to have been made from the inception till the date elaborating on expenditures made on machines and infrastructures
Mention the location of chief DIC of your district rather than mentioning local authority while online applying for Udyog Aadhaar registration
After filling the form for Udyog Aadhaar registration, click on submit that will generate OTP and deliver on your mobile registered with Aadhaar
Enter the captcha and submit…
FAQs
Q: Who is eligible for Udyog Aadhaar?
A: Just about every type of business entity is eligible for Udyog Aadhar.
Q: What are the fees for Udyog Aadhaar?
A: No, charges are taken Indian government for filing Udyog Aadhar.
Q: Is there any validity of the Udyog Aadhaar certificate?
A: No, Udyog Aadhar Certificate never expires.