Online aadhar verified UAN allotment | apply for aadhar card | aadhar-uidai.in 
We are revealing how to get allotted Aadhaar verified UAN (universal account number), mandatory for provident funds and more transactional services. But before jumping straight over to UAN allotment procedure it is important on our part to apprise you of the actual significance of UAN (universal account number) in our life.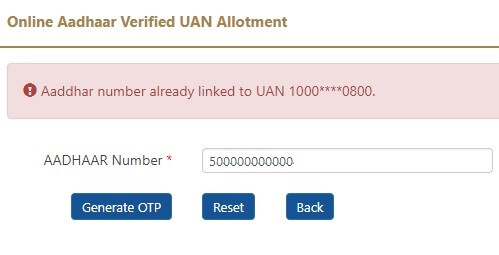 What is UAN?
UAN stands for Universal Account Number generated after Aadhaar verification and allotted to government employee enabling him/her to operate their EPF account and be informed of each of financial transactions carried out through account.Government of India has launched an app for this purpose so as to help government employees to access their EPF account anytime and anywhere else and manage their account online. The App enables government employees to get online information of their account via App. The candidates are needed to simply mention their mobile number and UAN (universal account number)on App and the desired information is furnished through SMS (short message service) on their mobile.Unlike erstwhile system the Aadhaar based UAN allotment has unbelievably eased operating EPF account online for the government employees apart from availing additional benefits.  
Significance of UAN for EPFO
EPFO is an organization working under the Labor Ministry of Government of India maintaining more than fifteen crore provident fund accounts of government employees in the country. Gone are the days when government employees were required to complete paper works that would unnecessarily have taken a long time, causing acute delay and financial crisis. But with online Aadhaar verified UAN allotment service the previous problem has ceased to exist. 
How to Get Allotted Aadhaar Verified UAN?
Being a government employee if you want to be allotted UAN through Aadhaar card verification then following steps will help you.
Visit official website of Employees' Provident Fund Organization of India, working under the Ministry of Labor & Employment (Government of India) or click directly on here
Select "Online Aadhaar Verified UAN allotment" link or Click on here
On reaching "Direct UAN allotment" webpage enter your 12 digit Aadhaar number
Click on "Generate OTP".
How to Activate Online Aadhaar Verified UAN allotment
Despite generating UAN you will not be entitled to make transaction unless the account is activated. So you as a government employee should activate your universal account number online by keeping at hand your PAN (permanent account number) card. Without PAN even the Aadhaar verified UAN can't be activated. So take following steps to activate Aadhaar verified universal account number and make financial transactions only thereafter.
Visit official website of Employees' Provident Fund Organization of India, working under the Ministry of Labor & Employment (Government of India) or click directly on here
Select "Activate UAN" or click on here 
Enter PAN number
Enter your name
Enter Date of Birth
Enter mobile number
Enter Email ID
Enter Captcha shown in adjacent box
Click on "Get Authentication PIN"
[This is how you can activate your online generated Aadhaar verified UAN for making financial transactions with ease.]
Online Aadhar UAN Allotment
For information, if you have a look at this process, then self-generate the UAN allotment with the support of aadhar. First of all, if you are going to generate the UAN by own, then you need to visit the respective unified portal. On the other side, people who all are looking forward to focus on the official link. By following the unified portal home screen, you can search for the hyperlink which is mainly highlighting with the online aadhaar UAN allotment.
Now, it is necessary for you to enter the respective details of Aadhar. If you entered the aadhar details, then make sure to tap on the tab "Generate OTP". Then, you can see the OTP number on your registered mobile. After that, it is essential for you to tap on the button "Submit". These are the vital steps where you need to follow and make use of it at any time.
Benefits of Online Allotted Aadhaar Verified UAN
On being allotted UAN the government employees get entitled to make financial transactions and manage their account with following benefits…
Generating bank statement of financial transactions
Downloading and Printing the Pass bookonline
Downloading and printing UAN details
Completing KYC process
Comment below if you have any queries regarding Online Aadhaar Verified UAN allotment 
You may also interested to read: How to check aadhar card correction status