Aadhar card correction | aadhar card correction status | aadhar card status enquiry phone number 
Be whatsoever Aadhaar Card Correction carried out at the enrollment centre or online through Self Service its status can be checked on UIDAI's official website easily. But before moving ahead to know how to check Aadhaar Card Correction Status it is important to clearly mention which type of correction or update was made in Aadhaar and how.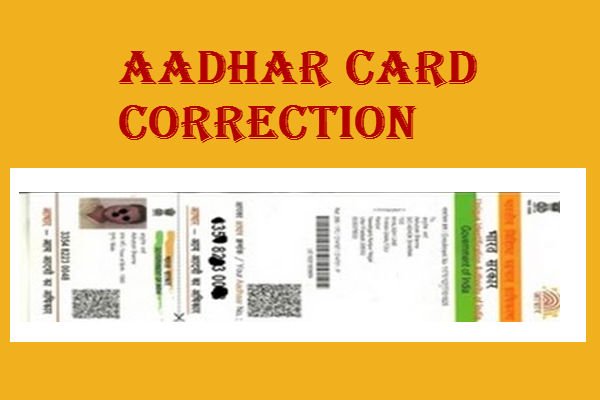 Mobile Number Can't Be Updated by Self Service
If you want to register a new mobile number with Aadhaar as the registered one has been lost then such type of Aadhaar Card Correction is needed to be done biometrically for which the candidate is required to visit enrolment centre physically and update his/her mobile number. On visiting enrollment centre the candidate can make lots of additional corrections in Aadhaar card by producing mandatory documents.
Byfeeding desired information for desired corrections in Aadhaar Card the enrollment executive issues a particular number, identified as URN (Update Request Number) or SRN (Service Request Number). With Aadhaar Number and URN/SRN you can easily and conveniently check Aadhaar Card Correction Status online, a process also known as Aadhaar Update Status Check.
How to Check Aadhaar Card Update/Correction Status?
This is very simple as anyone else can check the actual status of online update or correction made in Aadhaar Card at Enrollment centre by taking following steps…
Visit the official UIDAI website or click on here
Select "Aadhaar Update" column and scroll down to click on "Check Status Update Done Online" [It will take you to a new webpage].
Enter the 12 digit Aadhaar Number
Enter Update Request Number (URN) issued at enrollment centre
Enter Captcha in the for "Tex Verification".
Click on "Get Status".
Note:
Check Aadhaar Card Correction Status only 15 days after updating at local enrollment centre.
If your update request is found being rejected repeatedly then you should visit local enrollment centre to confirm Aadhaar Card Correction status.
Update of Aadhar card
If you want to make any update or handle the correction, then it is necessary for you to follow all the steps discussed below. Make sure to follow all the steps without skipping it.
First of all, you need to log on to UIDAI official website.
Now, it is necessary for you to tap on the link "Update Aadhar Detail Online".
By following the next page, make sure to enter the Aadhar number along with the security code. Now, tap on "Send OTP".
You will get an OTP on your device and it is necessary for you to enter the screen and tap on "Submit" button.
In order to update the respective required details, you need to follow on-screen prompts.
Once you tap on the submit button, you can witness URN.
By following the next screen, it is necessary to choose the BPO where you would like to select.
At last, you can get a chance to download the copy of acknowledgement and keep it safe for checking the Aadhar card correction status that whenever required.
Can We Check Status of Aadhaar Card Correction Anywhere Else?
You can check Aadhar Card Status online from any part of the country very easily. Dwelling on multifaceted usage of Aadhaar Card the UIDAI has simplified its enrollment, online checking its Status and online updates. Aadhaar card has got to authenticate your identity everywhere in India revealing your name, DOB, sex, father/spouse' name and address. Criteria of enrolling with Aadhaar card is same in entire country so is checking online its status.
Can We Update Name, DOB &Address?
Aadhaar registered candidates can update their address by uploading valid address proof and check its status online. But as far as correction in the name, DOB or any other issue is concerned it'd better the candidates visit with required documents and get the details updated which after a particular period would be visible online and so can be checked on UIDAI's official website. The candidates should avoid making corrections in which authentic documents are required. Local enrollment centers should be contacted for such corrections except updating the address. Once Aadhaar is finally updated you can check its Status online at home.
Comment below if you have any queries regarding Aadhaar Card Correction Status 
You may also interested to read: How to check aadhar card status online in Punjab