Udyog Aadhaar correction: If you have been issued Aadhaar card then you are entitled to register online for Udyog Aadhaar registration number using your personal details as mentioned in your Aadhaar Card. The information being mentioned for Udyog Aadhaar registration should match with the applicant's personal details mentioned in biometric Aadhaar card as Ministry of Micro, Small and Medium Enterprise doesn't entertain any change or correction to be made in the Udyog Aadhaar application form being filled online, ignoring the details of Aadhaar card. So do not make any kind correction in the Udyog Aadhaar registration form.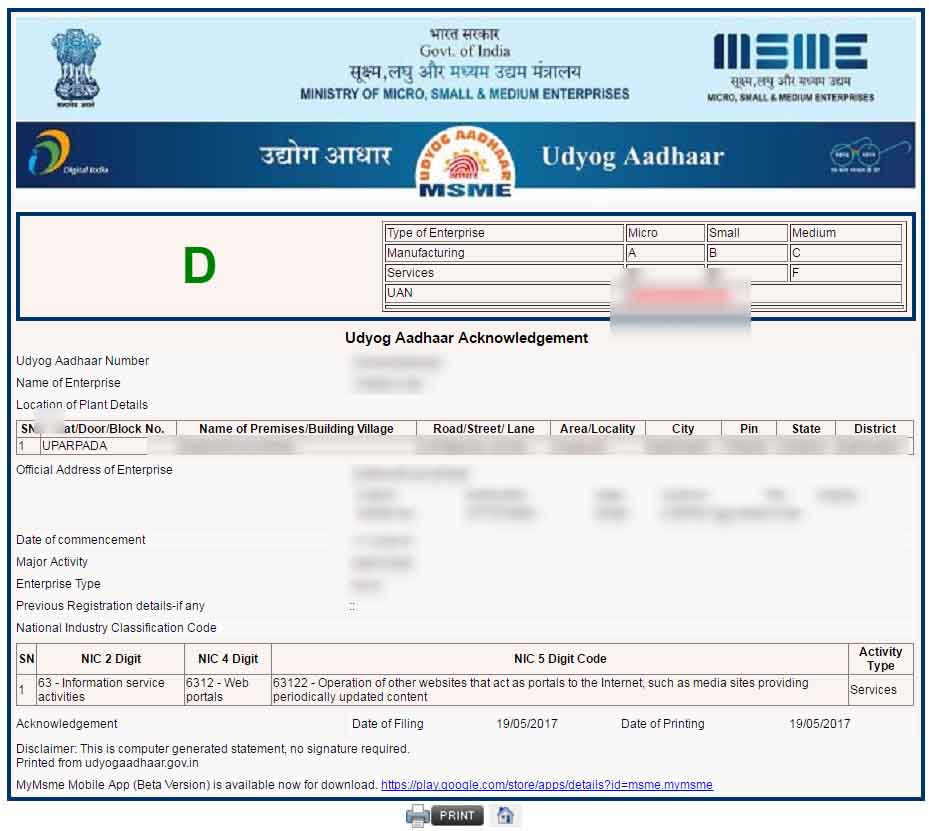 Mention the actual name, date of birth, address, email ID, and registered mobile number. But some applicants, according to official sources, enter different details changing the spelling or order of their name and surname hoping that it would help the make online correction in Udyog Aadhaar registration. But such a concept is absolutely hypothetical as the government of India doesn't provide any such arrangement which you must be aware of.
Is Udyog Aadhaar Correction Possible?
As mentioned above, you've to mention your same personal details as mentioned in the Aadhaar card. But some people presume that they can make amendments in Aadhaar while registering for Udyog Aadhaar. But this is nothing but a rumor. There is no provision of making Udyog Aadhaar Correction change Aadhaar's biometric details. You shouldn't get unaware of the fact that Udyog Aadhaar registration will not be accomplished without entering Aadhaar-based actual biometric information of yours. So shun the idea of bringing desired changes in Aadhaar through Udyog Aadhaar Correction as Udyog Aadhaar allows only Udyog Aadhaar Registration and not any online correction in Aadhaar for which interested individuals should visit either UIDAI's official website or contact local Aadhaar enrollment center with Aadhaar Card.
As Udyog Aadhaar registration is based on Aadhaar you cannot change anything as a part of online Udyog Aadhaar Correction. If you want to make any correction during online Udyog Aadhaar registration then you will have to make corrections firstly in your Aadhaar itself. It will help you in mentioning the details as part of the Udyog Aadhaar Correction without affecting the registration process.
Registration without Aadhar option
For information, if anyone like authorized signatory or applicant who is yet to enroll when it comes to the Aadhar, then it is necessary for them to apply. Also, it is important to visit the enrolment center in order to get enrolled when it comes to Aadhar. For information, aadhar will be mainly provided at the right time to each and every individual. On the other side, if you have a look at UAM registration, then it will be mainly handled by the respective MSME-DI or DIC. Also, there are certain things where you need to focus on.
Once the enrolled is done, then you will get the enrolment ID slip. At the same time, it is necessary for you to carry some of the essential documents to make use of it. If this process is followed, then the enrolment process of aadhar will be done at a smoother pace.
Remarkable Points for Udyog Aadhaar Applicants
Do not make any payment to anyone in any form as the government of India doesn't charge any fee in any form for the Udyog Aadhaar registration number to be issued to the applicant enterprises. If someone offers you Udyog Aadhaar Correction service for registration then bring it to the notice of concerned authorities or inform the local police.
Udyog Aadhaar Registration
Download application form and fill it online on your own as SMME ministry doesn't authorize any individual or agency for such services i.e. Udyog Aadhaar registration. Make sure that your 12 digit Aadhaar and mobile number registered with the Aadhaar number remain in your possession prior to online Udyog Aadhaar registration.
Mention your 12 digit Aadhaar number in the appropriate box.
Write your name correctly – Enter the correct spelling of your name as mentioned in your Aadhaar card. Any kind of variation in the spelling or order of the name will not allow the Udyog Aadhaar Correction process to be accomplished online successfully.
Confirm your Aadhaar card – Validate your Aadhaar card by clicking on the Aadhaar validating button before proceeding to fill the application form online for Udyog Aadhaar registration number.
Caste Category – Mention your caste category such as general, SC/ST or OBC (other backward class) whichever you belong to
Mention your gender – M/F
Mention if you are physically handicapped.
Mention the popular name of your enterprise known in the market. You can apply for each of your enterprises separately on your same Aadhaar card provided their ownership is in your name. But more Aadhaar cards and enterprises can be added or removed at a later stage as a part of Udyog Aadhaar correction or profile editing.
Select one category of your enterprise or organization as only one Udyog Aadhaar registration number is allotted to the enterprise applying for the Udyog Aadhaar registration number.
If you are applying as one entity like a public limited, private limited or a cooperative then do mention your PAN number mandatorily.
You can add several locations of plants during the online Udyog Aadhaar registration.
Make the address of the enterprise clear by mentioning area PIN code, mobile number, email, etc.
Mention date of commencing the business.
Mention the Udyog Aadhaar registration number if issued already by the appropriate authority.
Mention your banking details such as the name of the bank, account number, IFSC code, etc.
Mention the type of activity your enterprise is to get engaged in such as manufacturing/marketing or services.
Select as much NIC (national industry classification) codes as you can by clicking on the add button
Reveal existing strength of staff.
Mention the actual amount of investment to be made on machines and other infrastructures for expansion of your enterprise which you are applying for seeking to get Udyog Aadhaar registration number.
After filling the application click on submit to receive a one-time password (OTP).
Mention the respective OTP and Captcha to finish the Udyog Aadhaar registration process.