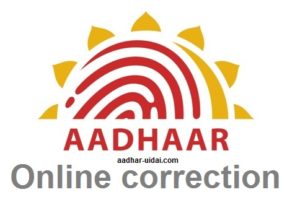 Aadhar card online correction made easy with these steps: Till date Aadhar system is the most reliable identification system which the Indians have been blessed with. The features of aadhar card regarding updating and retrieval of aadhar card have been made so simple and easy which makes it really flexible. Several times there are instances when you need to rectify your details in the aadhar card. For this purpose, you can go for aadhar correction. For the ease of the people, the facility of aadhar card online correction has also been made available at the UIDAI portal.
You can make use of both offline and online ways for updating your aadhar card. Most of the people resort to the offline way for updating their aadhar card for them Aadhar card correction form download is also available. But it will be more convenient if you opt for online mode for aadhar update.
Steps for aadhar card online correction
Steps for making aadhar card correction online are mentioned below:
In the address bar type the following web URL https://ssup.uidai.gov.in/web/guest/update
Now enter your aadhar number and Captcha Code
Click on Send OTP
Once you have entered the OTP you received on your mobile number, you will be asked the field name in which you want to make the changes. You need to select from the following:

Name
Gender
DOB
Address
Mobile Number
Email

Once you have selected the field, click on Submit
In the next screen, you need to fill in all the details as mentioned and click on Submit Update request.
Now you will be asked to modify and proceed. If you want to modify then you can change the details and can proceed further
Now you need to attach the following documents

Proof of Identity (In case of Name correction)
DOB (In case of Date of Birth correction)
POA (In case of Address connection

After these procedures and submitting the aadhar card change request, you will get Aadhar card update request number. You can use this number to check your aadhar correction status and for other future references as well.
This is the way in which you can make online corrections in your aadhar card. After finishing aadhar card online correction, you need to wait for a few weeks for the updated aadhar card to be physically delivered to your address. After a span of two to three weeks, your updated aadhar card will be delivered to your postal address. In case of offline correction, you need to physically appear at the nearest aadhar enrolment center and you need to take out time out of your busy schedule. The aadhar card online correction will save you both time and effort and you can apply for online correction from anywhere whether it's from your home or office. If you haven't applied for aadhar card as yet then you must apply for aadhar as soon as you can because, with each and every passing day, the importance of aadhar card is increasing manifolds. You can opt aadhar card apply online method for less time and effort. Just visit the official website of UIDAI and locate the nearby aadhar enrolment center and book an appointment.
How to update Mobile Number in Aadhar
The thing is most of the people are not using mobile number which was mainly registered over UIDAI. If you are the one who wants to updates the mobile number in aadhar card, then there are certain things where you need to follow without skipping it.
Firstly, you need to visit the Aadhar update or enrolment center
Now, it is essential for you to fill the form of Aadhar update
Make sure to enter only the current mobile number by following the form
The thing is you don't need to mention the previous mobile number
Well, it is not necessary to offer any proof in order to update the mobile number
Now, the executive will proceed further to register the request
You will get the acknowledgment slip which mainly contains URN
To access this service, it is important for you to pay the fee of Rs.25/-