Link Aadhar card to a bank account has become mandatory, the government has strictly directed to all the banks to link their customers Aadhar card with the bank accounts. Aadhar is becoming a common document that is required for applications of various types of utility and services. Soon it will become mandatory for all the upcoming bank exams as well as other.This is to make sure that people get the subsidies and benefits of government schemes directly in their bank accounts. People often get confused with the process of Aadhar card link to a bank account but the process is actually quite easy and can be completed easily. People can link Aadhar card with their bank accounts by online and offline both of the modes. The central government has announced the last date for people to link their Aadhar numbers with their various bank accounts and set the date till 31st Dec 2017.

How to link Aadhar card to a bank account?
1.Online method to link Aadhar card to a bank account 
For the online process of link Aadhar card to a bank account, it is important that you have availed the internet banking facility. If you do not have the internet banking facility activated, you can choose the option to activate it.
Follow the following steps to link Aadhar card to a bank account-
After login, you need to find out the link- "update Aadhar card details" or "Aadhar card seedings"
Click on any of the links and open the page
Now fill up all details regarding Aadhar card information.
After filling all the information, verify it and click on the "submit" button.
Now your online application will be saved in the bank database. Bank will verify the information entered by you, you will get notification via email or message on the registered mobile number.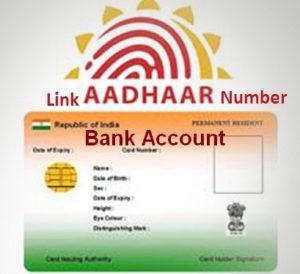 Note : You can also link aadhar card with app of some banks like PNB mobile banking app for pnb
2. Offline Method link Aadhar card to a bank account
Those who do not have internet banking facility can go through an offline method.
Following are the steps to get your Aadhar card link to bank account by offline mode-
Get link aadhar card to a bank account form available online.
Download it and take print out.
Fill all the details correctly.
Enter bank account number, IFSC code, address etc.
Enter your Aadhar number correctly.
After filling the application form, attach the Xerox copy of your Aadhar card with it.
Submit the application form enclosed with Aadhar to the bank.
Take your original Aadhar card with you for the verification process.
After the verification of the details, you will get notified via SMS or email.
So it's up to you through which process you link Aadhar card to a bank account. Both are the easiest process.
You can also check the aadhar card status whether you link aadhar card to a bank account or not.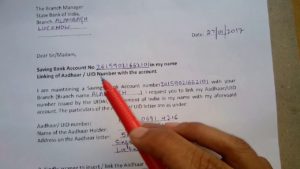 Check status with the bank :
Contact the bank.
Visit the branch.
Make a call to your bank's toll-free number.
Check status via SMS :
Dial *99#
Key in Aadhar number
Press 1
You will get to know about the bank where the Aadhar has been linked.