Aadhaar card works as an identity proof for the cardholder in all over the country (India). Aadhaar is managed by the Unique Identification Authority of India (UIDAI) in India. All the information that is uploaded in the Aadhaar card, are completely secure because UIDAI is not accessible to public and private agencies.
Linking Aadhar Card to a bank account has become mandatory, the government has strictly directed to all the banks to link their customers Aadhar card with the bank accounts. Aadhar is becoming a common document that is required for applications of various types of utility and services. Soon it will become mandatory for all the upcoming bank exams as well as others. This is to make sure that people get the subsidies and benefits of government schemes directly in their bank accounts. Updating the Aadhaarcard is mandatory because this card works a cardholder's identity and, in any case, if the government found cardholder's details mismatched or wrong then the cardholder will be punished.
People often get confused with the process of Aadhar card link to a bank account but the process is actually quite easy and can be completed easily. People can link Aadhar card with their bank accounts online and offline both of the modes. The central government has announced the last date for people to link their Aadhar numbers with their various bank accounts and set the date till 31st Dec 2017. You can inquire Aadhaar card link to SBI bank account status online and by phone registered with the Aadhaar card.
The Aadhaar Enrolment procedure is completely free of cost.  Aadhaar card holds a 12-digits number in which cardholder's Biometric and Demographic details. Also, it never collects the profiling details of the cardholder.

How to link Aadhar card to a bank account?
1.Online method to link Aadhar card to a bank account 
For the online process of Link Aadhar card to a bank account, it is important that you have availed the internet banking facility. If you do not have the internet banking facility activated, you can choose the option to activate it.
Follow the following steps to link Aadhar card to a bank account-
After login, you need to find out the link- "update Aadhaar card details" or "Aadhaar card seedings".
Click on any of the links and open the page.
Now fill up all details regarding Aadhaar card information.
After filling all the information, verify it and click on the "submit" button. If you want to keep proof, then take a screenshot of form by using any snipping tool.
Now your online application will be saved in the bank database. Bank will verify the information entered by you, you will get a notification via email or message on the registered mobile number. Assure that your registered number is active and reachable.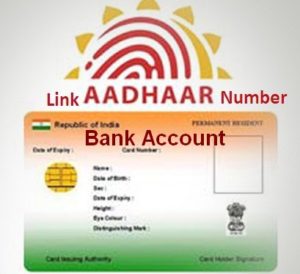 Note: You can also link the aadhar card with the app of some banks like PNB mobile banking app for PNB.
2. Offline Method link Aadhar card to a bank account
Those who do not have internet banking facility can go through an offline method.
Following are the steps to get your Aadhar card link to a bank account by offline mode-
Get a link aadhar card to a bank account form available online.
Download it and take a print out.
Fill all the details correctly.
Enter the bank account number, IFSC code, address, etc.
Enter your Aadhar number correctly.
After filling the application form, attach the Xerox copy of your Aadhar card with it.
Submit the application form enclosed with Aadhar to the bank.
Take your original Aadhar card with you for the verification process.
After the verification of the details, you will get notified via SMS or email.
So it's up to you through which process you link Aadhar card to a bank account. Both are the easiest process.
You can also check the aadhar card status whether you link aadhar card to a bank account or not.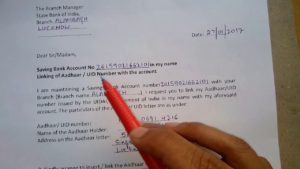 Check status with the bank :
Contact the bank.
Visit the branch.
Make a call to your bank's toll-free number.
Check status via SMS :
Dial *99#
Key in Aadhar number
Press 1
You will get to know about the bank where the Aadhar has been linked.
3. How to link Aadhar card to Bank using Internet Banking
Well, recently the government advised the people to link Aadhar card to the bank. In order to make that thing happen, most of the people finding the ways and make use of it. Now, the thing is here we are going to share the steps to handle the process with the support of Internet banking. All you need to do is follow the steps mentioned below properly.
First of all, you need to log into internet banking portal.
Now, it is necessary for you to visit the section which will be helpful to link aadhar as well as a bank account in general.
After the above process is done, you need to choose the account which requires to link and make sure to enter the aadhar number, and then tap on Submit.
Now, you can witness the last two digits of the registered mobile number which will be displayed on your screen.
At last, the status of your request will be sent to you through SMS to a registered number.
4. How to Link Aadhaar with Bank Account at ATM
Linking Aadhaar with Bank account is mandatory now. And if you don't link aadhaar card with your bank account, your bank might freeze your bank account. There're various ways like net banking, offline mode by visiting bank branch etc. But you'll be surprised to know that you can do it through your bank ATM. But keep in mind that you'll be able to it at your bank ATM. You won't be able to update your account with aadhar at other bank's ATM. So here's how you can Link Aadhaar with Bank Account at ATM
Visit nearest ATM of your bank.
Insert your debit card in ATM machine.
Enter ATM PIN
Press on Registration option.
After that, select Aadhaar Registration option.
Enter your 12-digit Aadhaar Number and check it again.
Press On correct.
Re-Enter your 12-digit Aadhaar Number and press correct.
You'll get an otp on your registered Aadhaar number.
Enter the OTP.
Now select your account type saving/current and you'll see successful message on screen.
FAQs
Q1: Do Aadhaar card works as an ID in competitive exams?
Ans: Yes, Aadhaar card es acceptable as ID proof in competitive exams held in India.
Q2: Is it mandatory to link the Aadhaar card to a bank account?
Ans: Yes, it is mandatory to link Aadhaar card to a bank account.
Q3: What details do a cardholder needs while linking Aadhaar card to a bank account by the offline process?
Ans: Bank account number, IFSC code, address, etc are required while linking Aadhaar card to a bank account by the offline process.