Aadhaar enrolment and Updation at banks
All banks in India these days have started the Aadhaar enrolment / Updation activity through its designated processes. So that everyone can visit their bank for Aadhaar enrolment or for updating their Aadhar information. Aadhaar enrolment has become one of the critical issues as we need Aadhaar card as our primary identity.
Every individual in our country should like to be enrolled in it and update it with their bank accounts. So that banks can easily keep track of every individual regarding their bank accounts, their transactions and so forth.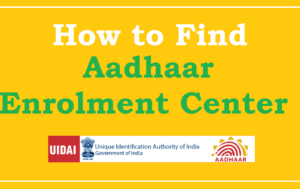 Aadhar Enrolment Process
Aadhaar enrolment process includes visiting specialised centres for making Aadhaar card, their they need to fill the enrolment form, getting demographic and biometric data captured, submitting proof of identity and address documents, before collecting acknowledgement slip Enrolment ID.
Aadhar Enrolment process was done under digital India program. In this peoples were also motivated to open their bank accounts even with zero balance and all thanks to our government and banks that they give their support in this. Today majority of the population in India have their Aadhaar card and bank account also.
Steps for Aadhar Enrolment:-
Go to the banks Aadhar enrolment centre and fill up the enrolment form

Submit all the needed documents like address proof, national identity

The attendee will verify your documents

Aadhar Card will be dispatched on registered address same as address proof, or you can download it from the e-aadhar site by putting your aadhar no. And with One Time Password(OTP) sent to your Registered mobile number.
Steps To Update your Aadhar:-
Go to E-aadhar Site to find updation centres near you

Fill a form of updating with new correct information which you want to be in your Aadhar
List of Details which can be changed in Aadhar
Name

Address

Date of Birth/Age

Gender

Mobile Number

Email Address
Fees for Aadhar Enrolment and Updation
New Aadhar Enrolment Free

Other Biometric Update 25+GST

Demographic Updates 25+GST

Find your Aadhar and B/W Print Out 25+GST
Now Aadhaar card is a primary identity for every person because for any legal procedure to taking a new SIM card we all need Aadhaar card as our proof of identity. Updation of Aadhaar card to bank account was also a very excellent idea of government executed by banks so that we can track expenses, earning and account balance of every individual within the country.
Moreover, there is nothing harm of an individual in doing so. In the starting period, there was a rush in this process, and it was also time taking. However, now we can get enrolled in it within hours.
Enrol and update Aadhar
In order to update the Aadhar card, it is necessary for you to follow the certain steps without skipping it. At this stage, all you need to do is follow the steps given below.
First of all, you need to visit the Aadhar enrolment center which is available nearest to the bank.
By visiting the center, it is necessary for you to fill the respective application form as well as essential to submit the Identity proof along with address document.
Now, the official branch will be proceed further to complete the update or enrolment process.
Through post where the Aadhar card will be dispatched with the support of UIDAI. Even you can download the form of e-aadhar form.
At the end of the day, these are some of the important steps where you need to follow without skipping it in order to complete the process in a smoother way.
More Details about aadhar enrolment
Aadhaar card is free of cost and also very beneficial for individuals as well as our nation, as this identity proof has no conditions, every individual of any age, any caste, any religion and any gender, rich as well as poor are eligible for having an Aadhaar card they just need to have Indian nationality.
Aadhaar card can also be linked to the majority of other id proofs and legal documents. Which also provide a vast track of individuals to government. Moreover, linking Aadhaar card with bank accounts gives a full opportunity to people as well as government.
Because it facilitates individual to mobile transaction and mobile banking and government to keep an eye on individuals, they can keep record of each and every transaction of individuals which allow government to restrict black money and proper circulation of money and also for formation of different economic decisions and plans as they have the data of individuals earning and expenditure.
However, it could also be somehow harmful and just by an Aadhaar card, or Aadhaar number of individual one can quickly get others personal details and can easily misuse it. Moreover, one can quickly make a fake Aadhaar card, which could get easily caught on the institutional basis or by checking its QR code, but can be misused on general purpose level. It is also important to know that if you don't link Aadhaar to your bank account, then bank have the right to freeze your account after the deadline.
Benefits of Aadhar Enrolment
Away from all this, it's very thoughtful and excellent decision to connect every individual of the nation with a secular identity that could be linked to their bank account too. As it provides them, too many facilities like recently linking Aadhaar card with bank account facilitate different subsidies, funding and other support like LPG subsidy and digital life certification for pensioners.
Aadhaar could also help the government to uproot the intermediaries (middleman) and by this government can quickly wipe out the fake beneficiaries.
Also compulsory linking of Aadhaar card to PAN (Permanent Account Number) helped a lot to IT department to catch fake accounts and reducing the tax theft, or we can say it would help in smooth tax flow within the nation, and that could be sustainably used for infrastructural developmental activities, global activities, boosting the domestic market and helping needed ones of country. Moreover, ultimately this would help India to be recognised as a developed country.
Aadhaar linking require few minutes for the account holder to do, but it's a great step in favour of our nation.