Aadhar card Download | Aadhar card Password | Open Password Protected Aadhar Card PDF File
Like I have mentioned earlier, Aadhaar Cards, today, are acting as a medium to identify an individual as Indian civilians. It contains a 12 digit unique number for the issuers. Aadhar card is only available for Indian residents. This venture is carried out by the organization which goes with name of Unique Identification Authority Of India (UIDAI) in India. Apart from the 12 digit unique number; Aadhar Card carries the Card holder's biometric and demographic information. This article talks about how to get the e-aadhar card pdf password. So what exactly is a Aadhar card password.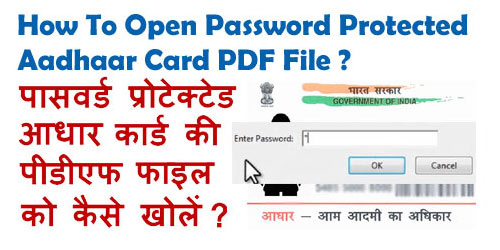 The Aadhar card is also available online at the web link given Click here . After you download the concerned file, you will see that is PDF-Based file which is in fact protected by a particular password. The password for the concerned file is of 8 characters. As per information on online portals for this particular topic; this 8 digit password is a combination of the issuer's name (CAPITAL letters mentioned on the Aadhar card) and year of the birth. Also, in case your hard copy of Aadhar card is misplaced or mistakenly destroyed; you would have to go through a series of steps to acquire the soft copy of the Aadhar card and it's password.
Steps to find e-aadhar card pdf password 
The steps for e-aadhar card pdf password are mentioned below:-
The very first step of this procedure involves 'Your Personal Detail's section wherein the user are provided two relevant options to choose from namely 'I have 'Enrolment ID'/'Aadhar". Select the detail that you have on you. In case you go for Enrolment ID; it is very much available with the data stamp within the Acknowledgment slip that you would have received at the time for registering for Aadhaar card and it is of 14 digits in total. In case, you choose Aadhaar Number; you're supposed to fill in the Aadhaar Number you received that would be of 12 digits in total.
The next step is to fill in your Full Name. Remember to fill up your name in the same manner as in when you registered for your Aadhaar Card.
Next, you would be required to enter the PIN code that you gave away of your postal address when you would have registered for Aadhaar Card.
Now enter the relevant text to the displayed image on an above row.
Simultaneously, give your mobile number. Keep in mind that this number should be the one that you gave at the time of registration for Aadhaar. You would notice that the window holds 'Get One Time Password'. Select it and you would receive an OTP number on the registered mobile number.
The next section of the online verification procedure involves 'Enter OTP Received and Download E-Aadhaar' section. After you enter the OTP number you received; do click on "Validate and Download" tab. That's where, the window would showcase a PDF-File being downloaded. This file would contain your E-Aadhaar.
This file is protected by a password that could be of 2 types:-
Either it could be the PIN code that you entered for your postal address while registering for Aadhaar.
In case the PIN code does not work, the password would be a combination of the first 4 letters of your name and your birth year as mentioned during registration. An example has been provided below for a clear reference to understand.
Example : Your name is Harsh
Your Year of Birth is 1989
Then you have to enter HARS1989
Hope it was useful. You can also see Aadhar card mobile number lost .
How to remove the password from Aadhar card PDF?
Generally, when it comes to handling the password of Aadhar card PDF file, most of them will be struggling to follow often. On the other side, some of them will find difficulties to follow for all the time that whenever looking forward to open it. For those people, here we are going to share some of the essential steps where you need to follow without skipping it. If you followed properly, then you can able to remove the password from PDF file of Aadhar card.
First of all, you need to open the Google chrome.
Now, make sure press ctrl+o keys in order to open the Aadhar PDF file which you have downloaded to check out.
After the above process is over, you need to choose the PDF file which is Aadhar card and tap on the button "open" without any fail.
Comment below if you have any Queries regarding Aadhar Card