This webpage is dedicated to inform you about the digilocker and procedure to store and download Aadhar card in the digilocker cloud service. Officially launched in India on 1st July, 2015 the digilocker is being used today by banks, educational institutes, government department, students, municipal corporations, hospitals and companies in India.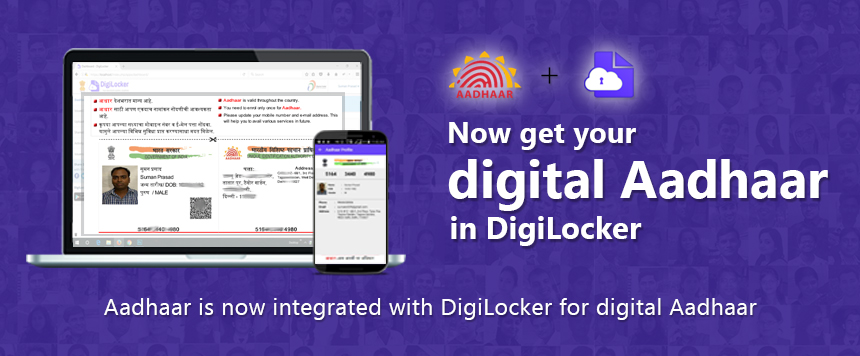 What is Digilocker?
Digilocker is a short term used for 'Digital-Locker' an online cloud service that stores documents securely to be monitored anywhere else in the world. With digilocker we do not need to carry our documents physically as it being visible online and can be converted into hard copies (paper) as well as per our needs. But without Aadhaar card these services cannot be initiated. So store and download your Aadhar card in digilocker to continue with the government-provided cloud services such as storing and accessing the documentary files.
Dwelling on guaranteed security of important personal documents with digilocker clouds the citizens in India have started using digilocker service to store, monitor and download their educational, professional and official documents rather than adhering to the conventional practice. Digilocker cloud service is operated by Government of India and hence is 100% secure, fast and time saving.
Advantages of Digilocker Service
Provides plenty of storage with 1 GB storage.
With Digilocker you do not need to carry bulky briefcase stuffed with heaps of papery documents. Available online it can be monitored and downloaded anywhere else in the world as per the requirements. PAN, Aadhar card, educational certificates and professional/official documents also can be stored in the digilocker.
Digilocker is fast, secure and time saving cloud service.
It has removed practice of preparing big files and bulky project reports
Storage Capacity of Digilocker
Digilocker can store up to 1 GB of data. Be it Aadhaar card, PAN, driving license (DL), vehicle papers, property papers, educational certificates, mark-sheets, identity cards, citations or other digital documents issued by companies/organizations the registered members can store and monitor them from any part of the world.
Who Can Use Digilocker Cloud Service?
Although digilocker is meant for all they all must be registered on digilocker's official website. The digilocker can be accessed by the registered members. So store and download your Aadhar card on digilocker's official website for registration/signup and opening personal account to access online storage and monitoring services.
Importance of Aadhaar in Digilocker Health Services
As we know the Aadhaar card is a mandatory document produced physically in the government hospitals. But with digilocker cloud services the patients now need not furnish any document, physically including Aadhaar. The digilocker provides the registered patients a number which they are needed to share with hospital authority to let them access details of their current treatment and medical reports. So the patients with online cloud services of digilocker get a freedom from carrying treatment-related documents to the hospital again and again.
The Digilocker enables even big organizations and companies to digitally share its official documents with its employees registered with Digilocker. Collaborated with UIDAI the Digilocker provides prompt access to the registered members. If you haven't registered with digilocker, do it now visiting the official site of digilocker.
How to Access Digilocker?
To access digilocker you must first of all sign up on the official site of digilocker using your Aadhaar number. In other words, you should store Aadhaar with digilocker online for cloud services. Once the Aadhaar number is entered on the sign-up page of digilocker, an OTP (one time password) is sent to the mobile number registered with the Aadhaar. On being verifying the OTP registration is accomplished successfully enabling the registered member to store and download all of his crucial documents as per of his needs.
How to setup digilocker app in Smartphone?
For information, whenever you want to store the documents in Digilocker, it is always possible. If you have a look at benefits, then it is mainly installed on your device where you can get an opportunity to access the documents. Let's have a look at installing and setup the digilocker application.
You need to visit the PlayStore in order to download the Digilocker app.
Now, tap on the option "Install" in order to install the app on your device.
Provide required permissions to the application.
In order to complete the set it up, you can open the app on your device.
People who all are having Digilocker account, and then they can tap on the option "Sign in".
Make sure to enter your username as well as password in terms of login your account.
If you forgotten user ID, then it is always easy for you to get it with the support of Aadhar number, where you will receive OTP on your registered number.
When you forgot your password, then you can follow further to reset it with the support of Aadhar by just sending an OTP to your mobile number.
How to store Aadhaar with the Digilocker?
As Aadhaar plays a pivotal role in opening an account you must store and download your Aadhar card visiting the digilocker website for all the online cloud services. Have a look at the modus operandi of storing Aadhaar with Digilocker and creating an account
Visit the official website of digilocker by clicking on here
Enter your mobile number to receive an OTP (one time password)
Enter the OTP and click on "verify"
Enter your Aadhaar Number. The Aadhar card is automatically stored and downloaded in the digilocker, creating account for cloud based online storage service.
With the above mentioned steps you successfully store and download your Aadhar card in digilocker to create your account.
How to Download Aadhaar card through Digilocker?
Follow instructions mentioned below to store and download your Aadhar card in digilocker or via online digilocker cloud.
Login the account using password created during the registration/signup or creating a Digilocker account
Click on "Get E Aadhaar" link.
An OTP will be delivered on your registered mobile number
Enter the OTP in the box and click on "verify"
You will reach on a page, "Issued Documents" where you must select "Aadhaar" and save/download it
So this how you can store and download your Aadhar card in digilocker online cloud service provided by the Government of India.
You may also see aadhar self service update portal
Comment below If you have any queries regarding storing and downloading aadhar card in digilocker