Aadhar Exam | Model Question Papers & Answers | Payment Process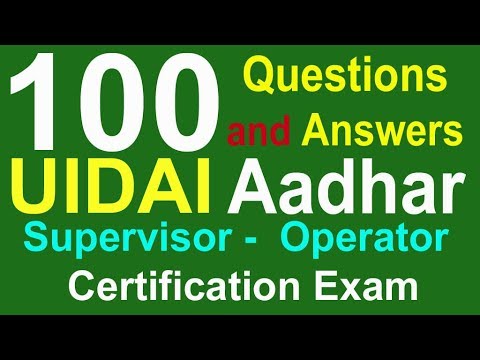 With increasing significance of Aadhar as a mandatory document in entire India the need of deputing efficient staffers at all the Aadhar enrollment centers of the country has become urgent. Used as authentic credential the Aadhar card is based on biometric details that are required to be saved by technically expert staff of Aadhar deputed by UIDAI, the unified identity authority of India. UIDAI appoints the qualified candidates for its authorized enrollment centers all across India for enrollment of adults and children with Aadhar. So the Aadhar Card enrollment in this way has emerged as a biggest job providing platform for unemployed youths. You also can apply for Aadhar card job and serve as Aadhar enrollment executive or supervisor. So learn how to apply for Aadhar examination dwelling on the procedures and whole criteria of selection.
Aadhar Examination is not a tough exam test but a test of candidate's knowledge about Aadhar enrollment procedure, significance of Aadhar, documents required for Aadhar enrollment. Such of their knowledge is scanned through 75 questions asked during Aadhar exam and its answers requiring tough questions and answers based model papers as the knowledge of Aadhar enrollment procedure and its usage in our life suffice. In simple words Aadhar examination is much easier to qualify provided you are aware of Aadhar related queries and its actual answers. If you obtain 40% marks in Aadhar exam then you've got to qualify for Aadhar job as enrollment executive. While 50% or more qualifies the applicant for Aadhar enrollment supervisor's post. Revealing you about Aadhar card enrolment jobs this webpage is also sharing Aadhar job applying criteria sharing exam fee payment process, examination hours, and number of questions.
Preconditions for Aadhar Jobs
The candidates applying for Aadhar jobs should have plenty of knowledge on UIDAI prior to Aadhar exam to be conducted by UIDAI engaged in biometric based Aadhar Card generation. You should be introduced well with Aadhar enrollment procedure before appearing in Aadhar exam getting yourself acquainted with Aadhar related general inquiries/queries to be made by people. The applicants should also have even technical devices/system required for the Aadhar enrollment, one of the mandatory preconditions that entitle the applicants to appear in the Aadhar examination.
How to Apply for Aadhar Exam
Following are the remarkable prerequisites regarding Aadhar exam which the applicant should be aware about.
Download Aadhar Examination Form Just download the Aadhar Exam Challan from UIDAI's official website or clicking on http://uidai.nseitexams.com link. Fill the in your personal handwriting with capital letters.
Pay Aadhar Test Fee As UIDAI doesn't accept Aadhar exam fee in cash the job seekers should pay exam fee either through bank draft, cheque, money order, postal orders or bank Challan. The examination fee Challan for Aadhar must exhibit the name and code of respective branch, scroll number/journal, date and amount of fees. Once Aadhar exam fee is submitted it is not refunded in any condition. So this is whole process which you should adhere to prior to applying for Aadhar examination.
Submit the Aadhar exam form After filling Aadhar exam form and arranging Aadhar exam fees you should submit your application by clicking on http://uidai.nseitexams.com. On clicking the link of UIDAI's official website you are registered you get registered and thus are enabled to apply for Aadhar examination. To register the applicant should upload your form, scanned images of documents and photo.
Email ID to receive or Active Mobile Number in the possession for the notifications from UIDAI regarding Aadhar examination.
Upload scan passport size photo
Upload scanned counterfoil of fee Challan, demand draft (DD), Cheque or MO for Aadhar exam.
Now click the mouse to submit as a new user for Aadhar examination. Following your submission you will receive ID and password flashing on desktop screen.
Remarkable Points to Be Noted –
Do not send Aadhar fee payment receipt and registration number
On Aadhar exam fee being delivered its conformation message is delivered on mobile number enabling applicant to set exam centre by login through the user ID and password.
Admit card also can be printed out for Aadhar card examination centre
At the examination entre you must carry valid identity proof substantiating the address mentioned on the form, print out of Admit Card and Xerox copy of the receipt of counterfoil of Aadhar fee Challan.
You can also see how to get appointment for aadhar card online registration.