How to Get an Aadhaar Card as an NRI : Steps : Aadhaar Card is a 12 digit unique identification number given to every resident of the nation India. Usually, the officials provide an Aadhaar card to the individual based on their demographic and biometric information. In fact, the Government has passed a rule that the residents of India must and should hold this card as an identity proof. If you are an NRI [Non-Resident Indian] and seeking to get an Aadhaar card then, you have landed at the right place. The process of obtaining Aadhaar Card for both the residents of India and NRI's is pretty similar. In this post, we have come up with a detailed step by step procedure to get an Aadhaar Card for NRI's. Check it out!
Aadhaar is an important form of identifiaction wheather you are living in India or you are a non residential indian , it creates an uinique identification which will be helpful in doing different works at multiple levels of any organistion and it will be benefial in various forms a nri should consider making an aadhaar as  it will be easy for them if they frequently visit india or have a long stay here in india , aadhaar willl help them in getting their work done where identification is required as it si best and most trusted source for identification , they can also link their indian bank accounts wirh aadhaar in order to keep a check on their security of account .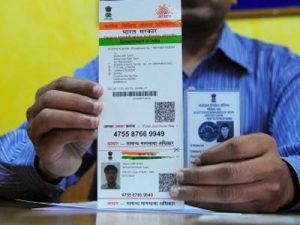 Steps to Avail Aadhaar Card for NRIs
As per the Aadhaar Act 2016, the resident or an NRI who remains in India for more than 182 days and more must and should apply for an Aadhaar Card. They need to apply for this document at least 12 months before the application date is eligible. Usually, an Aadhaar card comprises official identification number [also known as Aadhaar Number] which is linked to the centralized database. In the official database, you can find both the biometric and demographic data of an individual. In order to find the identity of an individual, this particular information is quite essential. Follow the below steps to obtain Aadhaar Card as an NRI.
Step 1: First of all, visit the official website of UIDAI i.e., at https://uidai.gov.in/.
Step 2: You can locate the nearby Aadhaar enrolment center which is authorized by the official UIDAI organization.
Step 3: After choosing an Aadhaar Enrolment center, you need to visit the location alongside the required original documents.
Step 4: You need to submit all the necessary documents in order to carry out the identification process.
Step 5: The documents include the birth certificate, Photo ID, Voter ID Card, and matriculation certificate from your school.
Step 6: The respective officials from the Government will verify the submitted documents and checks whether the candidate is eligible for obtaining Aadhaar card or not.
Step 7: After the verification of the documents, the candidate needs to attend the biometric scanning process. During this procedure, the candidate needs to get through the scanning of all his 10 fingers in order to generate a unique identity.
Step 8: The officials will scan the IRIS of an individual and acquires an accurate and unique identity.
Step 9: Once you are done with the scanning and IRIS, you need to look at the web camera so that they will take a photograph at the enrolment center.
Step 10: This photo will be the one that appears on your Aadhaar Card and other documents.
That's all! This is the easy process to avail an Aadhaar Card as an NRI. If you want to know the status of your Aadhaar Card online, you can simply log into the website using your enrolment number. It might take at least 60 to 90 days for the officials to dispatch your original Aadhaar Card. The UIDAI also renders some facilities to the residents and NRIs to download e-Aadhaar Card from the official website. In general, the digital copy of an Aadhaar card is equivalent to the original one that can be utilized for acquiring a plethora of services.
An aadhaar will be surely a valuable form of document with multi layer benefits as even if you are not a resident of india you will be provided some services that are their with the aadhaar and most importantly it will be helpful when you will get a unique indentification number which will help you to maintain your security and you can easliy the ID for various purposes when you come back to India or from the country you are living .