How to get a duplicate Aadhaar Card? Acknowledgement Slip Lost – "Aadhar Card UID" Enrollment Slip Misplaced : Aadhaar card is a mandatory proof of identity that every Indian citizen should have.  The government of India has made it compulsory for every individual to have their own unique identification number and issued one for everyone.  Most of us carry our Aadhar cards with us everywhere we go.  There will be times when we may loose our Aadhar card.  It is the time when we look for an alternative and that is the duplicate Aadhaar card.  In order to download duplicate aadhaar card, one should have their Aadhar number or the acknowledgement slip that was given to them at the time of enrollment with them.  If in case you lost you Aadhaar and acknowledgement slip and also forget the Aadhaar number you can reply on the residents demographic details like name, mobile number and date of birth to download the duplicate Aadhaar.
Aadhaar card is the most importnat form of identity proof neended these days and one can easily misuse the aadhaar details of a lost aadhaar card if timely proper actions are not taken and a regular check is not kept on the aadhaar as our bank account details and networks details all are linked with the aadhaar , so it is important to print a duplicate aadhaar when you lose your aadhaar card .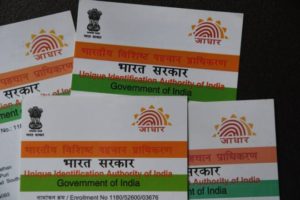 Below we shall explain how you can download duplicate Aadhaar card online in case you forgot your Aadhar number or lost acknowledgement slip.
How to download duplicate Aadhar Card online in case of lost of Aadhaar number or misplaced acknowledgement slip?
You can go by the guide provided below step-by-step to download duplicate Aadhar if you have lost your aadhar Card number and lost you acknowledgement slip given to you at the time of registration.
Visit https://resident.uidai.net.in/find-uid-eid.
Find the link that reads"You want to receive lost" – "Aadhar No (UID)" or "Enrollment No (EID)"and click on it.
Fill in the details appropriately that include your full name, your email address and registered Mobile Number.
Fill the security code and then click on "GET OTP" option.
You will receive an OTP to your registered mobile number and also to your email address.
Enter the OTP received in the specified box and click on "VERIFY OTP".
On successful verification you will receive your Aadhar Card number or Enrollment ID through a message.
Now go to https://eaadhaar.uidai.gov.in/
Click on the link that says "I HAVE" – "Aadhaar" or "Enrollment ID"
Fill the form with your Aadhar Card Number/ Enrollment ID, Full Name, Pin Code, Security Text, Mobile Number.
Now click on "Get OTP"
Again you will receive OTP on your registered mobile and email ID.
Enter the OTP in the box given and click on "VALIDATE and DOWNLOAD".
There you go! Your e-Aadhaar is ready to get downloaded.
Download the e-Aadhaar into your system and use your PIN code as a password to open the Aadhaar card in PDF format.
Check the details on it and then print it out and you are now set to use it as your identity proof.
How to contact UIDAI?
People who have lost their Aadhaar care can also report it to the UIDAI representatives through a toll free number.  You can simply dial to the concerned number of UIDAI and and register with them about the missing of your Aadhaar card.  They will help with the process of getting duplicate Aadhaar card to your postal address by giving you the duplicate Aadhaar card number.  You can also receive the Aadhaar number on your registered mobile number via SMS or email address.  If you are unable to connect with the toll free number then visit nearby regional office of Aadhaar card to register complaint with them about the missing Aadhaar card and asking them for a new one.  You need to carry all your original documents with you to the enrollment center to get the work done.  Nevertheless if you don't even have the Aadhar Card acknowledgement slip at least, it is pretty much difficult to get the duplicate Aadhar card online.
If you dont know the nearest aadhaar office than you should visit any government bank which is near you and there you can register your complain about tha missing aadhaar card and then your request will be forwarded towards aadhaar office and after which in 10 to 12 days the duplicate aadhaar will be processed and you will notified via sms or an email .