Aadhar card Correction | Check aadhar card status | Aadhar card name changed after marriage
How to Get Aadhaar Card Name Changed After Marriage
It isn't surprising that Aadhaar Cards, now-a-days, are as a way to identify an individual as Indian citizens. Largely, they were available on stock cards but they aren't only limited to that. Plastic Aadhar Cards are available for common people which is basically a printed form of Aadhaar details on a plastic sheet and holds the same value as that of the original Aadhaar Card. It is relatively easier to carry, maintain and like already mentioned above, also acting as an identity card.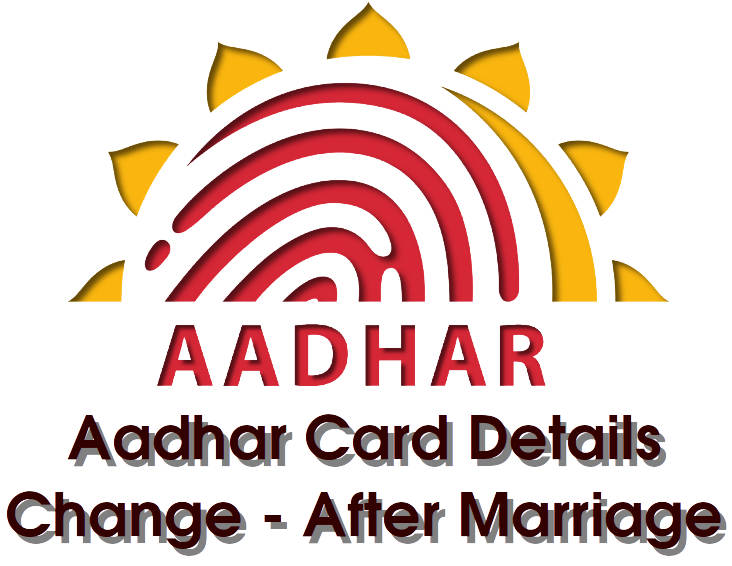 In order to acquire this plastic-based card; the person will have to provide the credentials of his Aadhaar Number, their registered mobile number or his/her biometric details (either fingerprints or iris scans) through which  the online verification process would be possible and carried out. Once the individual is done with the process of verification and authentication, the PVC Aadhaar cards would be printed and handed over to the person. The card, being so important, poses as a problem when a women has to change her surname after marriage in India. So in case you have an Aadhaar card before your marriage; it become easier to change the related details easily. But to make such functional changes, there are numerous approaches to get Aadhaar Card Name Changed after Marriage.
In order to get Aadhaar Card Name Changed after Marriage, the individual needs to have government recognized documents such as your name being mentioned on your husband's ration card, marriage certificate or such related proofs.
How to Get Aadhaar Card Name Changed After Marriage Online method
In order to get Aadhaar Card Name Changed after Marriage Online, it is important on your behalf to make sure that the registered mobile number for your Aadhaar card is active and is available to you. This is due to the fact the registered mobile number will be used for the OTP verification process.
Since you are carrying out this procedure online, you need to have supportive documents readily scanned on your PC or Laptop which ever device you are using for this purpose. The file types supported are as follows: jpg, pdf, tiff, jpeg, png).
Update on your name online
Basically, when it comes to update on your name, it can always be handling through online without any hassles.
First of all, it is necessary for you to use your aadhar number when you are looking forward to login into the self service update portal online.
Now, make sure to submit the name or surname in order to change the request over the requisite format.
It is necessary to upload scanned copy of related documents of self-attested.
When it comes to handling this process, OTP is required based on the registered number you have.
At the end of the day, you should keep it in mind that this process is completely free.
These are the essential steps that you need to follow when it comes to complete the upgradation. At the same time, it is necessary for you to follow all the steps without skipping it. Also, you can follow the steps below.
First of all, Visit the Aadhaar Self Service Update Portal using the link: click here
The very first page would ask you to enter your 12 digit Aadhaar Number in the Aadhaar Number field.
After entering the number, solve the text verification and select Send OTP button.
Once the OTP gets on your registered mobile number, enter the same number in the OTP field and click the "login button".
The next page needs you to select the fields which you wish to update in your Aadhaar. Here, the update in question is your name, along with the address since you are married now. After doing the changes, select the submit button.
The next showcased screen will ask you to enter the details that you have indicated for updating, like your full name, Wife of (W/O) and then, subsequently your new address.
After filling in the details, do make sure that the details are you in your preferred language and that they are translated properly. Proceed further if everything is in order.
Only after checking every entered details; click on "submit update request".
The next page would ask you to upload the supportive documents for the same purpose like Address Proof and ID Proof. Attach them along your request and upload them.
After successful uploading of the documents, click on "submit button".
The next page asks you to select BPO Service Provider and would then enable you to submit your request.
Next page informs you about the completion of your update request and it also mentions a URN (Update Request Number). This number is responsible for tracking your update request in future. So this number is quite important and hence, should be handled with care.
Once the procedure is completed in all terms you will receive a notification via SMS. This procedure may take place and stretch to a month or two. Another two to three weeks for the delivery of your Aadhaar Card Letter.
That's exactly how you get your updated Aadhaar Card after marriage!
Comment below if you have any queries regarding How to Get Aadhaar Card Name Changed After Marriage 
You may also interested to read: How to check aadhar card status by name