Simple steps to find aadhar card status by name | check aadhar card status | Check aadhar card status by name
Do you want to check Aadhaar card status by your name? Don't worry you've visited a right webpage for answer of your inquisitiveness. Almost all the people in India have been registered and issued Aadhaar card by UIDAI and remaining are being enrolled with biometric Aadhaar. But longing to receive their newly generated Aadhaar card at the doorstep of their house they at earliest they keeps impatiently waiting for Aadhaar. Dwelling on such immense curiosity among the enrolled members to know whether their Aadhaar card has been generated or not the UIDAI has introduced two types of online services on checking Aadhaar card status by name and the registered mobile number or enrollment slip (EID).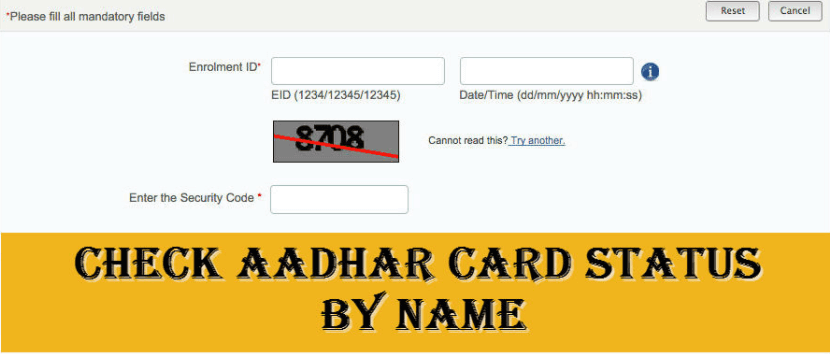 Maximum period for Aadhaar card to be generated and delivered at home of registered individual is 60 to 90 days but it can happen even earlier i.e. from 15 to 20 days of registration. This is what prompts enrolled members to check status of their Aadhaar card by name and download it online, if generated. As Aadhaar card is a biometric document authenticating identity of the person, the registered citizens do not want to wait for their Aadhaar to be delivered at home and get it downloaded. But even for download they are required to check status of Aadhaar card.
Modes of Checking Aadhaar Card Status
There are two ways of inquiring Aadhaar card status i.e. one – by Aadhaar Enrollment Slip and Two – by Name and the registered mobile number/email of the enrolled Individual.
Checking the Aadhaar Card status with Enrollment Slip (EID)
Under such process anyone else enrolled with Aadhaar recently can check or inquire status of his Aadhaar card by entering Aadhaar Enrollment ID (EID) in one box while the date, month, year and accurate timing into another. After entering the EID details the individual is needed to enter security code, shown in adjacent box and click on 'check status'. Within a few seconds the exact status of Aadhaar card appeara on the screen.
Follow the insurrections to check the status of your Aadhaar card by name if Aadhaar card is generated.
Visit the official page of UIDAI or click on link, here
Select first Colum, 'Aadhaar Status' and click on Check Aadhaar status. You can reach the page even directly by clicking on here
Enter your Enrollment ID (EID) in related box
Enter date and time in another box [dd/mm/yyyy/hh/mm/ss]
Enter the security code, displayed in another box…
Click the mouse on 'Check Status'.
So this is how anyone else can check the status of his or her Aadhaar card by entering name and mobile number and confirm if the Aadhaar is generated.
Check Aadhaar Card Status by Name
But for some of you checking the Aadhaar card status by name might be yet seem preposterous when the above mentioned trick can reveal the actual status of Aadhaar without asking even for your name. Yes, it is true but what to do if you loss even Aadhaar enrollment slip of yours. You will be left with no option except visiting enrollment centre in haste and requesting for Aadhaar card status. But online service of checking Aadhaar card by name is the best solution with which you can get know what you might be interested in.
Visit the official page of UIDAI or click on the link, here
Select first Colum, 'Aadhaar Status' and click on Retrieve your Lost EID/UID. You can reach the page directly by clicking on, here
Enter in the box your name registered with Aadhaar at the time of enrollment
Enter your E mail ID or Mobile Number registered with Aadhaar card during enrollment
Enter security code, mentioned in the nearby box
Click on 'Send OTP'.
You will receive one time password (OTP) on your registered mobile number or Email.
Enter the OTP and click on 'Verify OTP'
With such modus operandi you will come across the actual status of your Aadhaar card by entering only your name and mobile number/Email registered with UIDAI.
Simple steps to check Aadhar card status by Name
At first, you need to visit the uidai.gov.in which is considered to be the official site that provides Aadhar card.
Now, tap on Aadhar tab which is present at the top and below where you need to choose "Retrieve Lost or Forgotten UID/EID".
Next, you need to choose the option of retrieving UID or EID. Then, tap on the enrolment ID.
Make sure to enter the valid personal details as per the instruction along with security code and tap on "Send OTP".
After receiving the OTP, and make sure to enter it, then tap on "verify OTP".
Now, you will get enrolment ID which is available on registered email.
At last, get back to the home page and choose "Check Aadhar status". Here, it is necessary for you to enter the EID as well as date of enrolment along with security code, and then tap on "Check status". Finally, you can check out the status.
If you have any queries regarding aadhar card then you can resolve your issues here at aadhar card enquiry phone number toll free.
Comment Below If you have any queries regarding aadhar card status by name