Rajasthan Jan-Aadhaar Card: JAN-Aadhaar Card Yojana is a scheme introduced under the Gehlot government on 11th December 2019 as a replacement to Vasundhara Raje's Bhamashah Card Scheme. The objective of JAN-Aadhaar Yojana is to serve every citizen of the state with their rights and choices.
Geographically, Rajasthan is a vast state with about 6.9crores of population. Controlling a state with this amount of people without any initiatives to solve their problems will cite as a failure of the ruling government. Thus, the Gehlot government decided to discontinue the Bhamashah Card Scheme and introduced the JAN-Aadhaar Card Scheme with a vision of One Number, One Card, and One Identity.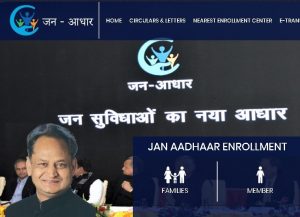 Bhamashah Card was introduced for women empowerment. It empowered every woman of every house of the state, declaring them the head of the family, but only if they are 18 or more years of age. The JAN Aadhar Card does not only enlighten this feature but also empowers every individual of the family, therefore, citing the rights of every citizen of the state.
If you are a citizen of Rajasthan state, then this article is definitely for you. We are going to understand how to get JAN-Aadhaar ID status.
Purpose of the JAN-Aadhaar number
The sole purpose of JAN-Aadhar Yojana is to implement one number, one card, one identity feature within the state, for all families.
This card is a replacement for Bhamashah Yojana. Therefore every woman has to be considered as the head of the family.
In case there isn't a woman of 18 years of age, then a man of 21 years or more age shall be claimed as the head of the family. If a family does not have any of the above-cited persons, then the eldest member will be considered as the head of the family.
Similar to Aadhaar Card, the JAN-Aadhaar number will allow both the central as well as state governments to track the eligibility of a citizen for governmental as well as non-governmental schemes and beneficiaries.
Regulation of the e-Mitra system will be more relaxed as well as that of women empowerment and financial incorporation.
Requirements to possess a JAN-Aadhaar Card number
Identity card of the head of the family (especially that of a woman)
Aadhaar Card
Ration card
Age Certification (Board/Birth Certificate)
Registered Mobile Number (The one which is designated for Aadhar Card)
Residential Proof (Address Proof or any bills)
Getting JAN-Aadhaar Number
A citizen of the Rajasthan state can get JAN-Aadhaar Number through 4 primary processes.
By registering through the JAN-Aadhaar registration portal
By sending SMS to a particular number
By using an Android app
Using Single Sign-on (SSO) Login
Let's understand in brief:
By registering through the JAN-Aadhaar registration portal
To register for JAN-Aadhaar registration, the Rajasthan state government has opened a portal to register for JAN-Aadhaar number.
Visit this page.
By default, this page is set in Hindi, and we cannot change its language. Fill the boxes given in the page, as in the following in an appropriate format:
Head of the family (woman)
Sex/gender
Aadhaar number
Date of Birth
Registered Mobile Number
Click on Submit.
By Sending SMS to a particular number
You can get your JAN-Aadhaar number by sending a message to 7065051222.
You have to share your JAN-Aadhaar enrollment ID, Aadhaar Number, and Registered mobile number.
Send JAN<space>JID<space><JAN-Aadhaar Enrollment ID> to 7065051222.
Send JAN<space>JID<space><Aadhaar Number> to the same number.
Send JAN<space>JID<space>registered mobile number> to the very same number.
[Note*: Do not include < > or "" marks in your SMS].
By using an Android app
Fortunately for Android smartphone users, you can download an app to get your JAN-Aadhaar Card number. And also to learn your JAN-Aadhaar ID status. We will teach you to step by step on how you can do it.
First, go to Google Play Store and type JAN-Aadhaar number on your search bar.
Look for the app provided by DoIT&C, GoR, and download the app. Wait for the download and the installation procedure to complete. Now open the app.
Here, in the app, you can see a dashboard with 5 options:
Get JAN-Aadhaar ID
Get JAN-Aadhaar ID status
Get GBT Details
Get E-card
SSO Login
 Tap on Get JAN-Aadhaar ID to register for your JAN-Aadhaar ID. A window appears.
Enter your Get JAN-Aadhaar Acknowledgement ID or Aadhaar ID. Tap on Get Family Member List.
Now tap on Get JAN-Aadhaar ID status. If the JAN-Aadhaar ID status says "card is printed" it means your card is downloadable.
Now go back to your dashboard and tap on Get E-card. It asks for your due permission to download your JAN-Aadhaar card number file after reviewing the JAN-Aadhaar ID status in a PDF format on your smartphone. If you run Android Nougat or later versions, you may require to give more permissions.
You can also opt for SSO Login after knowing your JAN-Aadhaar ID status, we are going to talk about it later in this article.
SSO Login
Visit the SSO Login
On the top-right of the page, you can see an option to choose your language. Choose between English and Hindi. By default, the page is set to English, and the Login page is fixed.
Enter your SSO-ID/Username and Password.
Enter the Captcha Code.
Click on Login.
If, however you end up on the registration page, click on the JAN-Aadhaar icon. A new window opens.
Type your JAN-Aadhaar ID/Enrollment number.
Click Next.
How to check your JAN-Aadhaar ID status?
Check your JAN-Aadhaar ID status here. Enter the site.
Enter your 14-digit enrollment ID and Enrollment time (usually date).
Enter the captcha code.
Click on Check status.
This is how you can check your JAN-Aadhaar ID status.
Frequently Asked Questions
Why was Bhamashah Card Scheme discontinued?
Every ruling party finds a flaw in the system introduced by the former party so that they can add new schemes. However, the Bhamashah Card scheme partially tilted towards women only, even though it stated women empowerment.
Can I get JAN-Aadhaar card if I do not possess a Bhamashah Card?
If you do not possess a Bhamashah card, you can get a JAN-Aadhaar card issued in your name.
How can families register for JAN-Aadhaar Number?
Families/Individuals can take the help of e-Mitra to register for JAN-Aadhar Number.
Do I have a choice, whether or not to opt for the JAN-Aadhaar card?
No, we are bound to follow the rules and schemes introduced by our respective governments because we elected them for our welfare. So, you have to opt for the JAN-Aadhaar Card regardless of your desire.