How to Easily Check PM Kisan Beneficiary Status: Do you wish to check your PM Kisan Beneficiary Status? If yes, look no further. We've got you covered with a simple and concise guide to help you access this crucial information without any hassle.
PM Kisan Beneficiary Status
As the PM Kisan scheme continues to provide support to farmers across India, every beneficiary needs to stay updated on their payment status. This ensures that you receive the financial assistance you deserve promptly.
Under this scheme, each beneficiary farmer is entitled to receive financial assistance of Rs. 6000. This assistance is provided in three installments annually, which is directly deposited into your bank account.
The latest release on this front was of the 13th installment, which was disbursed on 27th February 2023. As such, farmers need to stay informed about such releases to ensure they make the most of this invaluable support designed to benefit them.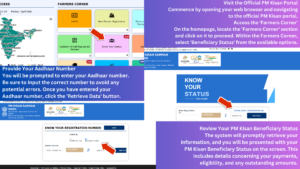 Why Check PM Kisan's Beneficiary Status
Before we dive into the step-by-step process of checking your PM Kisan Beneficiary Status, let's understand why it's crucial:
Timely Payments: By regularly checking your status, you can make sure there are no discrepancies or delays.
Financial Planning: Knowing your status allows you to plan your finances effectively. Whether it's for crop cultivation, agricultural expenses, or personal needs, having access to timely funds is vital for farmers.
Steps to Check Your PM Kisan Beneficiary Status
Now, let's get straight to the steps you need to follow to check your PM Kisan Beneficiary Status:
Step 1: Visit PM Kisan Portal
Start by opening your web browser and visiting the official PM Kisan portal. You can access it by clicking  https://pmkisan.gov.in/.
Step 2: Navigate to the 'Farmers Corner
On the homepage, you'll find a section called 'Farmers Corner.' Click on it to proceed.
Step 3: Select 'Beneficiary Status'
From the options provided in the Farmers Corner, select 'Beneficiary Status.'
Step 4: Enter Your Aadhaar Number
You'll be prompted to enter your Aadhaar number.
Step 5: Click 'Get Data'
Once you've entered your Aadhaar number, click on the 'Get Data' button.
Step 6: View Your PM Kisan Beneficiary Status
The system will retrieve your information, and you'll be able to view your PM Kisan Beneficiary Status on the screen. This will include details about your payments, eligibility, and any pending amounts.
Understanding the PM Kisan Beneficiary Status
Your PM Kisan Beneficiary Status will provide you with essential information:
Payment Status: This section will indicate whether your payment is 'Success' or 'Pending.'
Aadhaar Number: Your Aadhaar number will be displayed for verification.
Name: Your name, as per the records, will be shown.
Bank Account: The bank account where your payments are credited will be mentioned.
Scheme Name: It will confirm that you are indeed a beneficiary of the PM Kisan Yojana.
Payment Amount: This section will display the amount credited to your account.
Conclusion
By following these straightforward steps, you can effortlessly check your PM Kisan Beneficiary Status. It's a simple yet crucial task that ensures you receive the support you deserve as a farmer. So, stay informed and make the most of the PM Kisan Yojana.
Remember, timely information is the key to farming success. So, check your PM Kisan Beneficiary Status today and enjoy the benefits it adds to your agricultural journey.