What is voter's, Id Card? A voter's Id. is issued by the government to every person above the age of 18 to enable a person to vote during elections.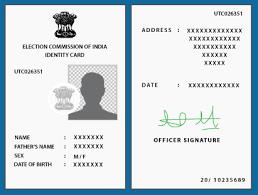 Why is it important?
It is essential because it can serve as identity and address proof and also prevent criminal activity during elections. It is proof that you are a resident of the country. It helps you to make use of the offers provided by the government. For example, the ration card cannot be applied without the voter's ID card.
A voter's Id consists of a photograph, name, gender, DOB, father's name of the cardholder. A unique serial no. And hologram with the national symbol is also seen on the card. The address and issuing authority's signature is found at the backside.
What are the documents that you need while applying for a voter's id?
Recent Passport Size photograph
Address Proof
Passport copy
Ration card
Bank Passbook
Gas bill
Copy of age proof:  Birth certificate or 10th standard certificate or Pan Card or Driving license or Passport copy                                      or Aadhar card or Kisan card
     9 Identity proof: Pan card or Student identity card or 10th standard certificate or Driving license or Ration card                                          or Passport copy or Bank Passbook or  Aadhar card
How do you apply for a voter id card?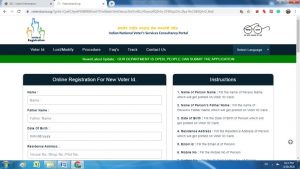 First of all, login to the respective state's election commission official website.
There is an option available to choose the specific state that you reside in from the drop-down list.
After selecting the state, login information is asked. If you are a registered member, enter your account information. If you have not opened an account, then register with a new account. Details like name, email id, mobile number, and gender will be asked.
After entering the information, you will receive an email with the login credentials. The website will prompt you to change your password.
Login to the website and click the Form 6 or application for a voter id card.
After entering the details in the form, attach a passport size photograph, and click submit.
You may have to visit the nearest voter id facilitation center with documents like id proof and address proof for further verification.
What are the benefits for voter id online enrollment?
Comfort:
It is comfortable to enroll online than to visit an electoral office to collect the form. Some people do not know the location of the office, and some do not find the time to collect the form. Hence for those people, it is an advantage to enroll online.
Tracking status:
Anybody can track the status of their voter id card online. You will be receiving regular updates on the status of your card.
Quick processing:
The online application seems to be faster than the normal application process. It hardly takes up to a month, whereas regular application will take a longer time.
Also Read: How to register for Voter ID online?
How to check your name on the voter's list online?
There is a website that helps us to check if your name is on the list. It is not enough if you have a voter's card alone. It is, therefore, mandatory to check your name on the list.
Type in the website: https://electoralsearch.in/
You can search in two ways:
Entering your details: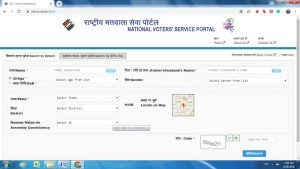 This includes name, age, date of birth, address, where you have been registered. Enter the code shown below and click on the search. If your name is present in the list, then you can view it.
Entering the EPIC (Election Photo Identity Card) number: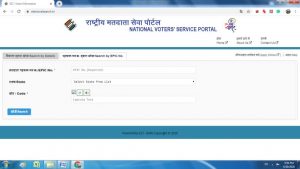 The EPIC number, along with the state that you are residing in, has to be filled in. Then enter the code given below and click on search. If your name is present, then you can view it in the list.
Voting is a fundamental right of every citizen of a nation. Voting decides the next ruling leader of the country. The economy and welfare of our country are in our hands.