Baal aadhaar card | apply for aadhar card | aadhar card status enquiry phone number 
UIDAI has introduced Aadhaar cards for children as well including the recently born babies which for many of you might look funny and sound gibberish but this actually is a fact, as revealed by UIDAI itself through official tweet. Almost all the children below 5 years of age can now be registered with Aadhaar without biometrical enrollment process. Once registered the UIDAI issues the children a green document, called"Baal Aadhaar Card" generated without scanning the eyes and fingers of the child. We are penning on Baal Aadhaar card, registration process and its significance in child's life.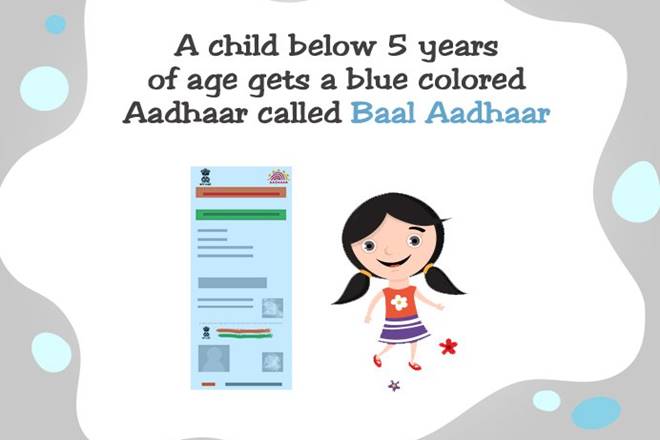 What is Baal Aadhaar card?
Baal Aadhaar card is an authentic proof of child's identity (below 5 years in age)revealing his father's name, time/date of birth, gender, location of birth, address, district, state, etc.Baal Aadhaar card is known as blue card as well issued by the UIDAI only for small children (below 5 years of age).Baal Aadhaar card is accepted as an authentic document as it contains personal details of a child such as gender, date of birth, father/guardian's name, location of birth, etc.Maximum numbers of urbanized children born at the hospital are issued a birth certificate by respective hospital which contains guardian's name time/date of birth and address while those (of underprivileged families)born at home remain deprived of authentic identity. Dwelling on it the UIDAI made Aadhaar registration mandatory for every newly born baby in India with Aadhaar. Once a child is enrolled with Aadhaar the UIDAI issues them a blue color document i.e. Baal Aadhaar card.
Baal Aadhaar card benefits
Baal Aadhaar card is basically aadhaar card for kid below 5 years. No biometric information is recorded while registering for Baal Aadhaar card. And there are several benefits of Baal Aadhaar card.
Baal Aadhaar card can be used as identity card of kid while traveling through train, flight or while staying in any hotel.
Most Schools demand Identity card of kid of admission. Baal Aadhaar card can be used as Id card there.
Government of India has launched Mid-day meal for kids in rural areas. Baal Aadhaar can be helpful in getting mid-day meal.
Documents Required for Baal Aadhaar
Parents required to carry following documents to get their child registered for Baal Aadhaar card.
Parents will have to carry child's birth certificate in order to confirm their age for Baal Aaadhar Card.
Parents should also carry their own Aadhaar card.
If kid has any school Id, parents should carry that as well.
Baal Aadhaar card for kids above 5
For Kids above 5 years, biometric data will be recorded. But parents should keep in mind that data must be update once the kid reaches the age of 15. After 15 these data will remain permanent.
Is blue color Baal Aadhaar card a life time identity proof?
Yes it is. But Baal Aadhaar card should be enrolled twice in the life of every child biometrically. First – on becoming five years old and second – on becoming 15 years old. Both the enrollments are executed on biometric system by scanning images of eyes and fingers at the enrollment centre.
Registration of Child for Baal Aadhaar card
Unlike Aadhaar registration for adults, the Aadhaar registration for children, below 5 years of age, is not executed biometrically or by scanning eyes and fingers of the children. The Baal Aadhaar card is generated on the basis of personal details mentioned on 'Baal Aadhaar Card Registration' form by respective baby's guardians/parents. UIDAI accepts each information about the child provided father/guardian of respective child submits personal Aadhaar card on behalf of the baby for the sake of Baal Aadhaar card.As Aadhaar registration for a child is not accomplished biometrically the biometric image remains missing.So for the image the parents should submit the latest photo of their ward along with completely-filled Baal Aadhaar card form.
How to enroll/register our child for Baal Aadhaar card?
Have a look at the process of registering for Baal Aadhaar card or blue Aadhaar card. Blue color Baal Aadhaar card though has immense significance similar to that of adult's Aadhaar card its process for registration differs.
Visit any of your local Aadhaar enrollment centers along with your Aadhaar card and birth certificate of your child.
Fill up the form for blue color Baal Aadhaar card
Mention one mobile number to be registered for blue color Baal Aadhaar card.(On Becoming 5 years Old)
Let you child be enrolled through iris (eyes imaging) and fingers imaging.
SMS for successful registration will be delivered on mobile number
Within a month or two the blue color Baal Aadhaar card will be generated and issued to the address mentioned on registration form.
Comment below if you have any queries regarding aadhar card for children   
If you have any queries regarding aadhar card then you can drop your queries here at aadhar self service update portal