UIDAI generates Aadhaar card for children but not less than 5 years in age. So if you want to get any of your children below 5 years in age you will have to wait till he or she becomes 5 by a valid documentary proof. But many parents unaware of the fact insist at local enrollment centre for Aadhaar enrollment of their recently born baby (below 5 years). Dwelling on such situation we are highlighting the actual terms and conditions for Aadhaar card registration especially for a child.
Why the Children below 5 Years are not enrolled with Aadhaar?
According to UIDAI the fingers and eyeballs of recently born children pass through faster changes up to five years after birth. And this is the only reason that enrollment of Aadhaar card for children (below 5 years) is not considered feasible.
Can Children below 5 Years of Age be Enrolled with Aadhaar?
No. But those with one year of age can be procured Aadhaar by linking with their parents. The biometric details are collected of newly born children only after they attain 5 years of age. What is remarkable to dwell on is the reenrollment of each of the already-enrolled children at the age of 15 years also. Re- enrollment is to for authentication of the biometric data of registered child to keep all the chances of biometric randomization at bay.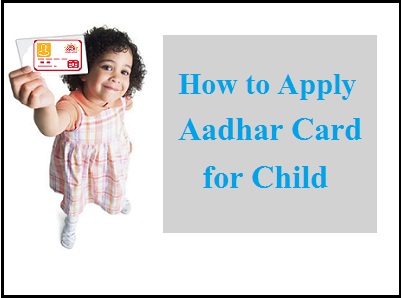 Documentary Proofs for Kids' Aadhaar Enrollment
Birth certificate issued by hospital or local authority suffices for the age certification but parents can introduce their child furnishing details of their personal Aadhaar Card to verify date of birth and address.
Significance of Aadhaar card for children
Aadhaar is 14-digit powerful documentary evidence, authenticating biometrically the identity, age and address of
individual. With Aadhar being used mandatorily everywhere even the children are needed to be enrolled with Aadhaar. But many parents, observing Aadhaar card from beneficial services' point of views, do not take pain to enroll their recently born children. But they should not wait for their child to attain adulthood as even in schools, the Aadhaar card has started being demanded by school authorities for authentication of the child. So make sure that registration of Aadhaar card for the child of yours is accomplished on time sans procrastination of the issue.
How Aadhaar card is Generated for Kids?
Process of generating Aadhaar card for children is the same as that of adults. Images of eyeballs and fingers are the indispensable part of registration process for enrolling with Aadhaar card. Only after respective process is accomplished the Card generation process gets underway. It takes 60 to 90 days for Aadhaar card to be delivered at the mentioned address. But it can be checked online earlier with the registered mobile number and enrollment slip (EID) on official website of UIDAI. Aadhaar enrollment for a one year child though is not processed you can get the kids information linked up with biometric details of yours, at authorized enrollment centre.
Biometric changes affect the child for 5 years after the birth and this is why the Aadhaar enrollment is not processed by UIDAI. It is only after 5 years when a born child is allowed to be enrolled for Aadhaar. But adhar enrolment yet is not treated final and respective child is required to re-visit the local enrollment entre to feed his/her personal biometric data, this time for final registration.
Aadhar card for children using offline mode
If you have a look at Aadhar card registration, then it is almost similar to the adults. When it comes to Aadhar enrolment process, then here we are going to provide the steps to handle through offline mode.
It is necessary for you to visit the enrolment center which is nearest to you.
Now, get an application form of aadhar.
Make sure to fill the respective valid details and keep it in mind that the information must be valid.
Despite the aadhar card for child, then one can provide the proof of parents in order to complete the registration process.
The photograph of child will be captured.
Well, the Aadhar acknowledgement slip is mainly offered after the document verification is over.
You can see that the acknowledgement skip will be containing the enrolment number as well as enrolment time. At the end of the day, the slip should be kept safe in order to checking the status of aadhar and proceed further to update any important information in future.
You can also see: how to check aadhaar card status online in tamil nadu.