AADHAAR CARD has been used for almost every official purpose since it came into existence. It is basically a number issued to every citizen and every individual has a unique number. These numbers are assigned to them after a thorough procedure of applying for an AADHAAR card. The AADHAAR card contains not only an individual's personal information but also biometric scans of their fingerprints and retina, making the card more authentic and reliable.
It provides an Indian citizen with proof of identification and provides the government with data about every person residing in India. As the data is entered into the system during the process of AADHAAR card making, it is saved in the system of UIDAI and hence the government has access to all the data of the citizen of India having an AADHAAR card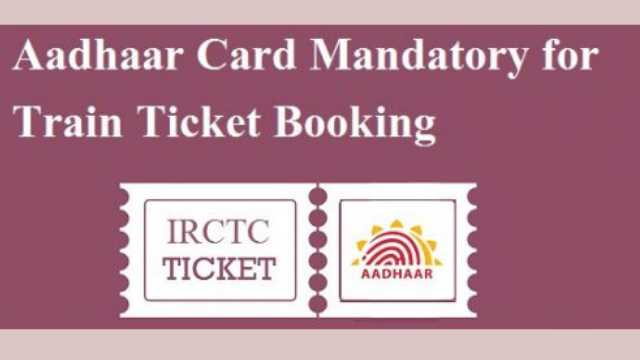 USE OF AADHAAR CARD IN RAILWAYS
AADHAAR card is the facility being issued to every netizen of India. Not only it is proof of the beholder's identity but it can also be used for other purposes. As it's a direct government-issued document it gives a top-notch authenticity to the beholder of the card. It says that the government has all sorts of information regarding the individual. An individual has the access to other facilities like
A bank account can be opened.
Applying for a passport becomes much easier.
Individuals can also avail of LPG subsidy
And can grab all those benefits in the government process through the Aadhaar card.
Like in all other sectors in railways as well with aadhaar card an individual can avail different benefits.
The Ministry of the railway has given special importance to the Aadhaar card in case of proving the identity of an individual. In both ways, it is permissible to show your identity i.e.
E-Aadhaar: It is an electronic form of AADHAAR card with all the details available in it with digitalized signature. If you are not having your original AADHAAR card, then in case you have been asked for identity proof, you are free to show E-AADHAAR
M-Aadhaar: It is an application that has to be downloaded from the play store. The application has been launched by UIDDAI in order to make the people avail the various facility of online systems. Given steps is the way to use M-Aadhaar easily:
On your android visit the play store and download the M-aadhaar app and install it on your phone.
Open the app on the top right corner click on 3 dots and add your profile, and fill up the necessary information.
Give the app the required to access and permission and you are ready to go, from the app you can download your Aadhaar card.
The ministries of railway have also created an extra feature in online ticket booking. A portal for E-ticket has been launched for more convenience for buyers. After booking the train ticket there is also one option to check the train status. For all these purposes one application has been launched that can be downloaded on any pc or android i.e. IRCTC (Indian Railway Catering and Tourism Corporation), without downloading it also one can still check the train status by typing the train number.
The AADHAAR can be linked with the app through the following steps, and booking your ticket will be way easier.
How to avail the benefit of AADHAAR CARD for a train ticket in India
First got to the IRCTC website https://www.irctc.co.in/or if you have downloaded the app open that.
Log in to your account, open your profile which has an option of the Aadhaar KYC link.
After clicking on the KYC link enter 12 digits unique number of aadhaar card,
The process will continue and you will receive an OTP on the registered mobile number enter OTP, and it is linked with Aadhaar.
Note- the registered mobile number is the number being linked with your Aadhaar card. This number should be the same which was used while filling in the details for your Aadhar card. If it is not the same number kindly update your number through UIDAI official website. There you will find an option to update your AADHAAR card details.
Rail Travel using m-Aadhaar
The Ministry of Railways accepts m-Aadhar as one of the required forms of identification for rail travel. According to a press release from the Ministry of Railways, m-Aadhar (Aadhar card on mobile app entitled m-Aadhar released by UIDAI) would be accepted as one of the required proofs of identity for rail travel in any restricted class.
UIDAI has introduced m-Aadhar, a smartphone app that allows users to download their Aadhar Card. It can only be done on the phone number associated with Aadhar. To exhibit the Aadhar Card, the person must first access the app and input his or her password. When a traveler shows his or her Aadhar number on his or her phone after entering the password, it should be recognized as proof of identification for travel in any restricted class on Indian Railways.
Aadhaar-based Ticketing System for PRS Tickets for Senior Citizens has been withdrawn.
The Ministry of Railways declared that the Aadhaar-based ticketing system for PRS tickets (both counter and e-tickets) for older citizens will be phased out. Senior persons would not be refused concessions just because they do not have an Aadhaar card starting April 1, 2017. They must, however, have verifiable verification of their age or date of birth, which they must give if asked by onboard ticket checking employees.
Senior adults may now purchase reserved tickets without an Aadhaar card at reservation booths and on the internet. Previously, the Ministry of Railways decided to make aadhaar-based verification mandatory for senior citizen concessionary tickets beginning April 1, 2017, and senior citizen passengers must carry any of the original documents, including an Aadhaar Card, as notified from time to time for the purpose of identity proof during their journey. However, the aadhaar-based ticketing system has now been discontinued immediate effect.