Aadhaar card is one of those facilities which are being provided by the government to the netizens. It is a compulsory document that is required for every person to have. Like all cards, this card does not serve a specific purpose, but it does have a much higher value than other cards.
Though the AADHAAR card does not have any specific functions it is used in various official and governmental procedures. Subsidy facility, opening a bank account, booking train tickets, and many more are the benefits which an individual can avail of just because an individual has an AADHAAR card. It is a way an individual gets a digital identity that is not only for some sections of society but for everyone.
The best part of the Aadhaar card is that every single individual has easy access to this card facility. Making an AADHAAR card is completely free since there are no fees associated with it. The unique id number on every Aadhaar card has nothing to do with caste, religion, income, or status. So This means the profile on the card is completely based on the identity of the individual, such as birth date, name, etc., which are stored in the UIDAI database and therefore are accessible to the government.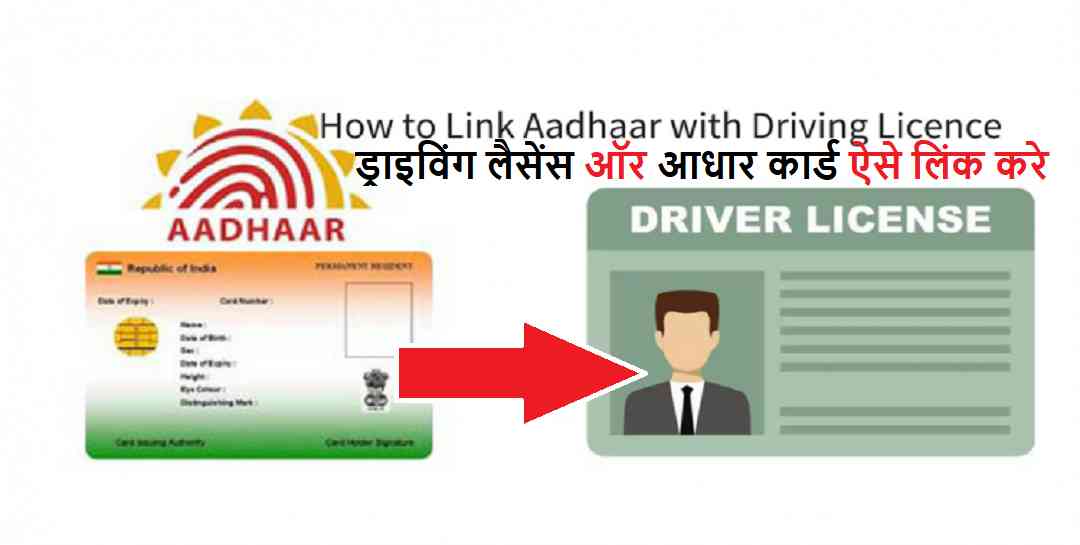 Can an Aadhaar card be used anywhere?
Well looking into the facts, then definitely an Aadhaar can be used in almost every field or area where an individual is required to present his identity proof. According to government guidelines and UIDAI, Aadhaar is a document that proves a person's identity, and without fail, every citizen must possess it for identification on a reliable basis.
On top of that linking an aadhaar card to various other documents makes it easier for the holder to avail of different benefits being issued by the particular document like a bank account, train ticket booking system, or driving license.
How to link Aadhaar with a driving license?
If an individual's AADHAR card is connected with his/her IRCTC profile, they can book up to 12 tickets per month. As in this case, there are benefits to linking the driving license with AADHAR as well. The very first thing is how to link it,
Steps to link the aadhaar with the license:
1– Linking Aadhaar with a driving license is not difficult at all. First, you have to type Sarathi Parivahan in a search engine and go to its website https://parivahan.gov.in/. This website is launched by the government for all types of online services regarding roads and transport.
2– Now, the home page will display on your screen, there click on the tab of driving license-related services.
3– Then it will take you to the page where you have to select the state you live in.
4 – After selecting the state, you will receive several fields that must be completed according to your driving license.
5– Once you have filled up all the necessary details of your driving license, two boxes are there below all the details where you have to fill the 12-digit aadhaar number and registered mobile number.
6– The registered mobile number will receive an OTP, which must be entered in the corresponding place, wherever the dialog box asks for it.
7– Verify all the details are written correctly, then submit for proceedings.
8– Now with all the procedures being done, the OTP verifies and the Aadhaar card is linked with the driving license.
Advantages of Linking Your Driver's License to Your Aadhaar Card
The requirement to link a driver's license to an Aadhar number will benefit the following:
When Aadhar is linked to a driver's license, the entire procedure will be centralized.
Authorized authorities would be able to get and validate the license data of every automobile owner in India using the Aadhaar-based unified platform.
Authorized agencies will be able to distinguish between fraudulent and authentic driver's licenses.
Transport authorities will be able to recognize fraudulent papers and take appropriate action if an individual obtains numerous licenses.
The drivers' information will be stored in a single internet database. No one would be able to renew duplicate licenses since the data will be available across India.
The Aadhar-to-driving-license linkage will improve transparency and anti-corruption.
The entire procedure will be carried out electronically. Individuals will be awarded a driver's license within 72 hours of completing the driving test, unlike manual processes.
Because no one may obtain a driver's license without passing the driving exam, the number of road accidents will drop.
Various activities relating to the transportation department will now be faster and easier.
Why link the Aadhaar card with Driving License?
Linking both of them will only benefit the government. As for the government, if an individual's driving license is being linked with its aadhaar card the government can judge or verify whether any of the two documents is fake or not. Both of their data are stored in government systems. Furthermore, if a person holds more than one driving license simultaneously, the concerned authorities will be able to detect that as well. They can take the necessary action against this fraudulent activity.
Genuine and fake drivers can be distinguished by their driving licenses. So it brings a lot of ease to the government to track such activities. And hence they can make online services more efficient.