Jeevan Pramaan based on aadhar authentication | apply for aadhar card | aadhar card correction
Jeevan Pramaan is a recently introduced biometric digital life-certificate developed specially for the retired government employees or pensioners.With Jeevan Pramaan digital document the pensioners will not be required to visit physically their bank and fill 'life-form' to prove they are alive.This article is revealing actual significance of Jeevan Pramaan certificate in the life of old retired government officials sharing the procedure of attaining it from the Jeevan Pramaan Centers as well. Aadhaar authenticates Jeevan Pramaan certificate.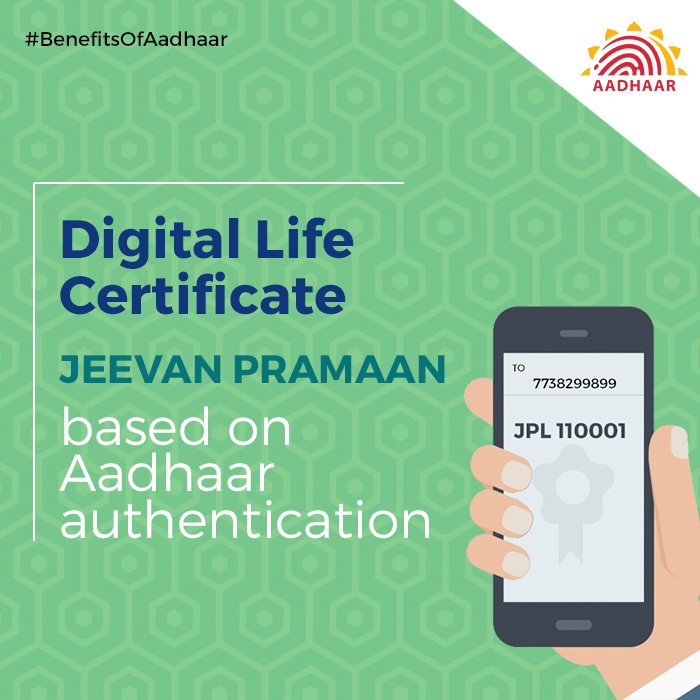 What is the Jeevan Pramaan Certificate?
Taking cognizance of compulsion imposed on pensioners to prove they are alive by physically visiting their respective bank, the government of India has launched easiest, fastest and unquestionably authentic electronic card known as Jeevan Pramaan certificate.Also known as 'Digital Life-Certificate' the Jeevan Pramaan certificate proves pensioner's living on earth without calling him/her for making their presence registered in person before the bank official.Serving digitally as an electron card the Jeevan Pramaan certificate renders useless other evidences of life which earlier was called for by the bank as indispensable life-proof.The Jeevan Pramaan certificate introduced in December last year is the all-in-one solution for the old pensioners as it substantiates their liveliness and provides freedom from making documentary dispensations every year to continue with monthly pensions.
Need for Jeevan Pramaan Digital Certificate
Whole of the family parasite on monthly salary of family head (government employee) is compelled after the retirement of government employee to survive with pension. The family gets completely parasite on pension if there is no solid source of income. The pension automatically gets disbursed or credited to the account of pensioner every month without any job. According to official sources many families of retired government employees in India, despite pensioner's death withdrew pension earlier through ATM without disclosing to the bank the death of retired person. They be fooled bank employees with fake life-certificate. Such kind of practice caused huge loss to the government exchequer forcing authorities to after all find out strong solution and Jeevan Pramaan digital certificate has emerged as authentic life certificate. The Jeevan Pramaan digital certificate paves the way for timely disbursement of pension as well authenticating the identity of pensioner.
Procedure to obtain Jeevan Pramaan Certificate
Aprocess is required to be adhered to for obtaining Jeevan Pramaan digital certificate. Go through the information on Jeevan Pramaan digital certificate and follow instructions as mentioned here on:
Enroll Yourself – Enroll or Register Yourself for the Jeevan Pramaan digital certificate through any of the three options such as downloading Jeevan Pramaan App on PC or your Smart phone and vising local Jeevan Pramaan Centre (Government Organization). To enroll what indispensably is required to be kept at hand are Pension Payment order, bank details (name, account number, IFSC), Aadhaar number and mobile number registered with Aadhaar.
Biometrically Authenticate Your Identity– Biometric authentication is must for the Jeevan Pramaan digital certificate which can be accomplished through iris (images of eyes) and the scanning of fingers.
Note Down/Save Jeevan Pramaan ID – After successful biometric authentication the Jeevan Pramaan certificate ID will be delivered on registered mobile number with an acknowledgement SMS.
Benefits of Jeevan Pramaan Certificate
No Need to Visit Branch of Bank – The pensioners have been appearing as of now at their respective treasury office/branch of bank with duly signed 'life-form' every year. But visiting bank for a physically weak or ailing pensioner is a herculean task to do which with Jeevan Pramaan digital life-certificate has become matter of past.
Accessible Online – The Jeevan Pramaan digital certificate can promptly be accessed any time and from any part of the world and downloaded in PDF format.
No Need of Additional Document for Life Certificate – Unlike common practice of producing physical documents with signature the Jeevan Pramaan digital certificate authenticates identity of pensioner itself biometrically just like Aadhaar card.
Jeevan Pramaan is Free of Cost – Government of India doesn't charge even a single penny for the Jeevan Pramaan digital certificate.
Can be availed at local Jeevan Pramaan centers– Biometric Jeevan Pramaan digital card can be availed from Jeevan Pramaan centers or by registering online.If you want to get yourselves acquainted with a Jeevan Pramaan certificate, you will have to select a Jeevan Pramaan center of your city/district nearest to your home. So get Jeevan Pramaan digital certificate and draw your pension hassle free.
How to Know Jeevan Pramaan Digital Centers?
We are revealing the means for obtaining Jeevan Pramaan digital certificate which you can choose as per your convenience to avail digital Jeevan Pramaan certificate to authenticate your life. The Jeevan Pramaan certificate can be obtained by online enrollment, that is, either by visiting any of the government-run Jeevan Pramaan centers (offline) or downloading Jeevan Pramaan app on PC/Android Mobile. So select anyone of the following three options to generate Jeevan Pramaan certificate for pension.
Government Jeevan Pramaan Centre(central or state) – It is one of the three options which the pensioners can adopt to obtain Jeevan Pramaan digital certificate. It is akin to offline service to obtain Jeevan Pramaan document but to locate any nearest center you will have to choose any of the following options to locate a Jeevan Pramaan Centre nearest to your home…
Google Map –
If you want to locate nearest government Jeevan Pramaan center this option will show you the exact location of the site. So proceed taking the following steps one by one to locate one of the nearest Jeevan Pramaan Centres from your home in order to obtain the digital Jeevan Pramaan card.
Visit the official website of Jeevan Pramaan or click on here
Select 'Locate a centre' to trace online the nearest centre for Jeevan Pramaan certificate. [Search either by location or by PIN code]
If clicked on 'location' then select the desired option out of Citizen service centre/NIELIT centre/Government offices/Jammu & Kashmir Bank
Select the State
Select the district
By Phone –
Just dial 0120-3076200 to find out a local Jeevan Pramaan centre nearest from your home.
By Email Inquiry–
You can make inquiry through E mail as well to know about a nearest Jeevan Pramaan centre from here
By SMS –
Write "JPL" in capital letters and SMS it to 7738299899. You will receive on your mobile the detail of local Jeevan Pramaan centers nearest to your residence.
How to Enroll for Jeevan Pramaan Certificate?
Enrollment is a precondition to obtain Jeevan Pramaan electronic certificate which you can do by downloading app either on your PC or Smartphone (Personal Computer/Desktop/Smart Phone/Android Phone). Under this option you can download an app through the link sent directly on the email entered for Jeevan Pramaan certificate.
Visit the official website of Jeevan Pramaan
Click on 'get a certificate'
Select option 'PC' or 'Android Phone'
Enter your email
Select one option – 'PC App Installers' or 'Mobile APP' [You will come across PDF file with links for APK]
So in this way you can enroll by login to obtain digitally generated biometric Jeevan Pramaan certificate.
You can locate Jeevan Pramaan centers by login the app and can obtain digital Jeevan Pramaan certificate as well enrolling and authenticating yourself biometrically on official website ofJeevan Pramaan. The Jeevan Pramaan certificate can be downloaded and uploadedon official website for viewing of the bank/pension disbursing authority. So obtaining the Jeevan Pramaan digital certificate and uploading it online has got to pave for uninterrupted disbursement of pension.
How to Upload Digital Jeevan Pramaan Certificate?
To upload Jeevan Pramaan certificate you will have to get yourself equipped with your Aadhaar card and mobile number registered with Aadhaar. Now take the following steps one by one to upload your digital Jeevan Pramaan card.
Click on here
Select the "download/upload form"
Enter the registered mobile number
Enter Aadhaar number [Mobile number will receive OTP (one time password)]
Enter the OTP
Accept terms and condition and use OTP for downloading or uploading your digital Jeevan Pramaan certificate.
So this is how you can obtain the digital Jeevan Pramaan certificate, stored online for the access of pension-disbursing authority or agency any moment and from anywhere else in the country.
Comment below If you have any queries regarding  linking Jeevan Pramaan to aadhar  
If you are facing issues with aadhar card , then you can call at the aadhar toll free number i.e. Aadhar status enquiry phone number.