Do you not want to give your Aadhaar number to any shopkeeper or agency? Are you afraid of its misuse? If yes, then its option has come for you.
This option exists as Aadhaar Virtual ID (VID). VID allows you to authenticate transactions and e-KYC services without giving your Aadhaar number to private and government institutions.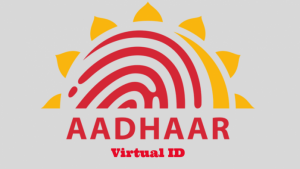 What is a Virtual ID card?
Virtual ID is a temporary number of 16 digits. It can be generated anytime. For verification, VID can be used in the same way as the Aadhaar number. VIDs can be generated on the UIDAI portal.
Since VID is a digital ID, a person having Aadhaar can generate it multiple times. This makes it much safer. Right now VID is valid for only one day. This means that Aadhaar holders can create new VIDs only one day after the VID is generated.
Where can it be used?
Aadhaar is mandatory to open a new bank account, get a government subsidy, apply for an instant passport, and buy a new insurance policy. In all these cases, instead of giving your Aadhaar number, you can give a 16-digit VID.
How to generate Aadhaar Virtual ID?
STEP 1: Go to the VID generator under Aadhaar services on the UIDAI homepage.
STEP 2: Enter your Aadhaar number, security code i.e. captcha, and click on 'Send OTP'. You will get OTP on your UIDAI registered mobile number.
STEP 3: Enter OTP. You will have the option to retrieve a new VID or pre-generated VID. On submitting the selected option, you will get the VID on your mobile number.
We hope this article is very helpful for you.