Apply for Aadhar card | aadhar card correction | link aadhar card with Insurance policy
If you own several insurance policies of prominent financial institutes issued to your name not linked yet with your Aadhaar and PAN then link them forthwith to Aadhaar and PAN of yours without any apathy as these policies will cease to be valid after a deadline set by IRDAI. Linking the insurance policies with Aadhaar and PAN has become mandatory under the IRDAI act, 2016. Under the act new insurance policy will not be issued without Aadhaar and PAN needed to be linked mandatory with the purchased insurance policy. Almost all the insurance companies have launched website to provide online linking services to help their policy-holders to link their current insurance policies to Aadhaar and PAN anytime and anywhere else as per order of IRDAI (Insurance Regulatory and Development Authority of India).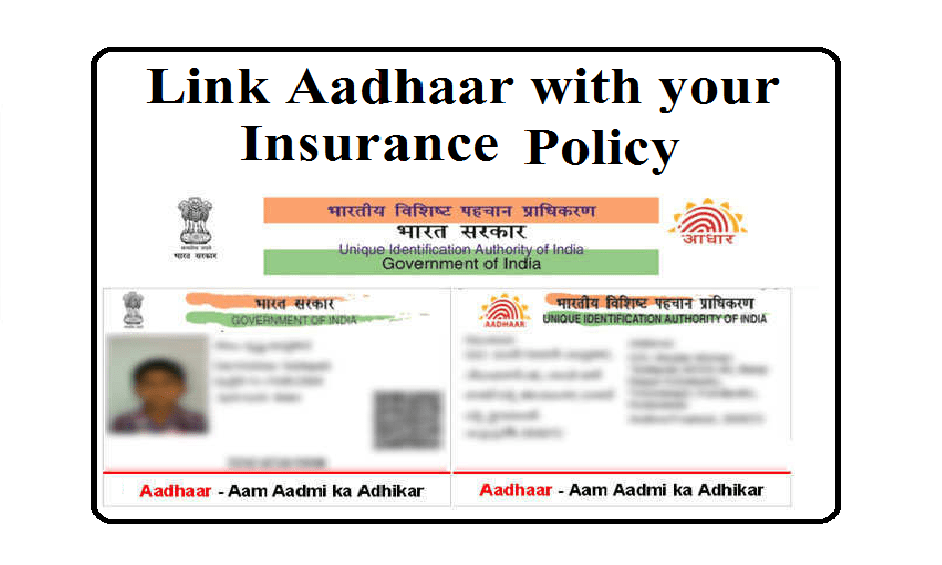 How to link Aadhaar to insurance policy of LIC?
You can link all of your insurance policies issued by LIC following the instructions mentioned over here…
Keep all the documents such as Aadhaar card, PAN and insurance policies of LIC at your hand before heading to link insurance policies with Aadhaar and PAN.
Keep at hand your mobile number registered with Aadhaar. The Aadhaar-registered mobile number receives one time password (OTP) when linking the insurance policies with Aadhaar and PAN.
Visit official website of LIC or click on here
Click on "Proceed"Or You can directly access main page for linking the insurance policies of LIC with Aadhaar and PAN by clicking on here
Enter you name as mentioned in the Insurance policy, Aadhaar and PAN
Enter your date of birth
Enter name of your father or spouse
Enter the Aadhaar number to be seeded or linked to insurance policy
Select the gender from male, female or other
Enter your email address
Enter the PAN (permanent account number)
Enter your mobile number registered with Aadhaar
Enter the Insurance Policy Number of LIC
Accept the terms and conditions of LIC on linking the insurance policies to Aadhaar account and PANby ticking in the box
Enter captcha as shown in the box
Click on "Get OTP" [You will receive a message of successful registration of the request for linking insurance policy with Aadhaar and PAN after completing the process.
Remarkable Points on seeding Aadhaar to Insurance Policies
If you want to purchase insurance policy of any financial entity without Aadhaar card or PAN, you will not be able to do so. The company can issue you the insurance only on your promise that you will link the respective policy with Aadhaar and PAN within a particular period of time as per the guidelines of IRDAI.
If the current insurance policies are not linked to Aadhaar and PAN then they will be declared null and void.
Without seeding with Aadhaar and linking to PAN the even the authorized policy holder will not be entitled to claim the policy.
Link aadhar to Insurance policy using offline mode
If you are having a look at linking process, then it can be done with the support of simple steps. So, people who all are looking for the steps to follow, then without going for a second thought, you can go ahead with steps discussed below.
First of all, you need to navigate to the nearest office related to insurance company or you can get connected with insurance agent.
Now, all you need to do is important to carry the aadhar card along with 12-digit unique identification card of self-attested copy.
After the above process is over, you need to submit to the respective officer in order to get the Aadhar card as well as insurance policy linked without any hassles.
These are some of the essential steps where you need to follow when it comes to linking the aadhar to insurance policy with the support of offline mode at any time.
How to Link Aadhaar to Insurance Policy of Bajaj Allianz
Linking process even of Bajaj Allianz's insurance policies is the same as that of LIC, mentioned above.
Visit the official website of Bajaj Allianz or click on here . Go through FAQs thereof and click on the bottom of page to proceed to link the policies with Aadhaar and PAN conveniently.
Or
Click on here  to jump straight onto the page on linking insurance policies of Bajaj Allianz to Aadhaar card and PAN.
Enter all the details in respective boxes and thus finally link successfully your insurance policy to Aadhaar and PAN.
So this is how you can link your insurance policies with your Aadhaar card and PAN easily and conveniently.
Comment below if you have any queries regarding Linking Aadhar to Insurance Policy
You may also interested to Read: aadhar card status enquiry phone number