Aadhaar number is your identity. Even though the Supreme Court has imposed some restrictions on its use, it is still mandatory for government services and subsidies. In such a situation, we and you make the Aadhaar Card. UIDAI takes your fingerprint and retina scan data while creating an Aadhaar card. This is called biometric data and you share it with the government. Biometric data is used for Aadhaar validation. For example, if you show Aadhaar card as an identity card to purchase a SIM, then you can let the telecom company access the details of the identity card through fingerprint. By doing this you can validate ID fast.
However, there have also been many cases where people have accused of misuse of Aadhaar Biometric Authentication. There are many people who have not even used their Aadhaar card for several days but have received an email from UIDAI that their data has been accessed through biometric authentication. This is a very scary issue.
You can avoid this situation if you go to the UIDAI server and lock the Aadhaar Biometric Information. This means that your biometric data will not be accessible by anyone else. You can also unlock it before using it. After the verification process is complete, you can lock it again.
You can lock and unlock Aadhaar UIDAI Biometric information in this way …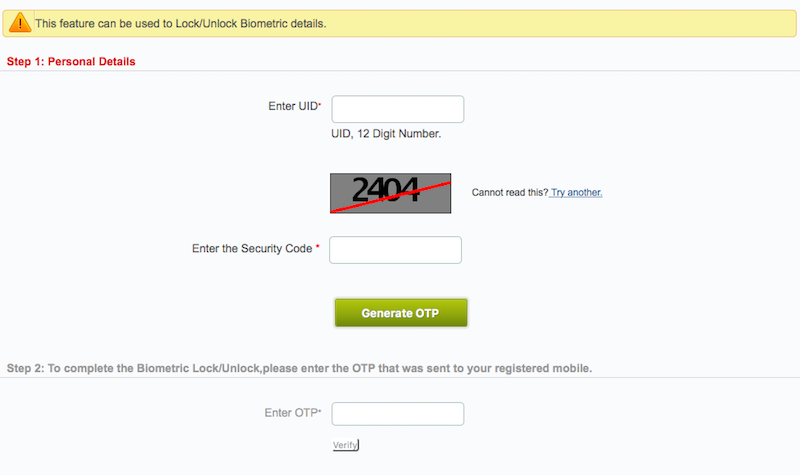 Visit the UIDAI website.
Enter the Aadhaar number of 12 digits.
After this, write the security code shown on the picture below the Aadhaar number.
Now click on Generate OTP.
After this one time password will be sent via SMS to your registered phone number. Then write OTP on the same page.
Click on verify.
Now check enable biometric locking.
After checking enable biometric locking, click enable.
If you want to disable the lock, then uncheck Enable Biometric Locking. Then disable it.
In this way, you will be able to lock/unlock your Aadhaar UIDAI Biometric Effect. You can also unlock it as per your requirement by following the instructions given above. Explain that after locking the biometric data, you will be able to verify the transactions and requests based on Aadhaar only through OTP sent to the mobile number. The thumb and iris scan feature will be over.