With the increasing obligations of quoting Aadhar, it has become even more crucial to have Aadhar card. Providing every citizen with a Unique Identification Number would help the government in curbing black money and this is why Government of India is so focused on attaining 100% target of issuing Aadhar number. The aadhar card apply for form filling is a very simple process you can see below.
Aadhar card form filling with simple steps explained clearly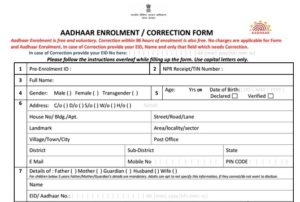 For all those people who are unaware of the simple steps for Aadhar card form filling, this article is helpful for them. Below are some important procedures of aadhar card form filling with simple steps. All you need to do is to follow these steps in order to fill the form properly.
First of all, you need to enter the pre-enrolment ID
Now fill in your complete Name which has been mentioned in your ID proof.
In Field number 5 you need to write your Date of Birth. Make sure that you attach a proof verifying your Date of Birth. It can be your class 10th mark-sheet or date of birth.
Now you need to provide your address details. The details so filled in the form by you must be as per the proof of address which you are enclosing along with the form. If there is any difference between the two then make sure that you get it figured out or else you will be facing a lot of difficulty in the future.
A field requiring your mobile number and E-mail id should be filled in properly as you will be contacted by the UIDAI through these numbers and Email id in order to keep you updated of the status of your Aadhar card. The number which you are providing should be such which should work permanently as in the future on several occasions OTP will be sent on this number during several registrations of different sorts. For e.g.: Getting yourself registered on Income Tax portal.
If you are filling the form for a minor who is below five years of age then it is mandatory fill the name of Father/ Mother/ Guardian/ Spouse Name in the next field. For people above 18 years of age, this field is optional.
In Field no. 8, you will be asked to tick the option regarding your wish to share your data with other government agencies like Petroleum Ministry, Banks, Passport Offices, etc. You should tick this option as Yes because by doing this you can avail the subsidy facilities like subsidy on cooking gas, etc.
Next field is also optional. It asks you to share your bank details. You should provide it in case you are willing to avail the subsidies directly in your bank accounts.
Now you need to mention the documents which attached along with the form.
Finally you need to sign the declaration that the details so provided by you are true to the best of your knowledge.
Above points explains aadhar card form filling with simple steps and once you have filled the form, you can visit your nearest authorized Aadhar enrolment center. If you follow these Aadhar enrolment form filling instructions properly then you won't face any problem in apply for Aadhar card. After getting it finished you can check aadhar status by going through the link https://resident.uidai.gov.in/check-aadhaar-status.
Things to keep it in mind
When it comes to entering the details, it is necessary to check whether the filled details are valid or not. Yes, this could be the essential things that you need to be followed before going to submit. In case, if there are not valid details, then there is a chance of facing difficulties to happen in future. Also, get support from experts if you are not aware of filling the form. If everything is filled with valid details, then without any issues, you can proceed further for submission. At the end of the day, these are the essential details where one must be followed without ignoring it.
Also, before getting into the process of filling the form, then people must be aware of having some documents to get the valid details. Yes, the valid details are always playing a crucial role in terms adding in the Aadhar card form filling.