Aadhar card address change: Changes in your aadhar card like aadhar card address change update seem like a long and troublesome procedure to many people, but actually it is not. All thanks to the digitization of many of the government procedures in recent times.
Steps to get Aadhar card address change
The details in your aadhar card like your address can be easily changed online. For aadhar card address change follow the steps given below :
Head over to the official site by the government for an update in your aadhar card details here :
https://ssup.uidai.gov.in/web/guest/update
Enter your aadhar card in the appropriate box and click on the send OTP button next to it.
You will receive a One Time Password (OTP) on your mobile number that is registered with the aadhar card number you need to change the details for in the aadhar card correction form.
Enter the Text Verification code in the security image correctly and press enter.
Now you should enter the second step i.e. Data Update request.
On this page, enter the details you want to be updated or changed accordingly. In this step, you can apply for aadhar card address change.
Upload the soft documents the site asks you for with your signature on them (self-attested).
You will be assigned an aadhar card update request number which you can later use to check the status if your request.
The details once verified by the UIDAI will be updated in your aadhar card and the aadhar card with the successful update will be sent to you.
Note: You need the mobile number that is registered with the aadhar card on you as only that mobile number will receive the OTP. You cannot update your mobile number registered with your aadhar card using this method. While self-attesting the documents for the update process make sure that the signatures are neat and clear. You can also get aadhar card download once the update is done.
But, what actually is the aadhar card and why is it so important to keep it updated?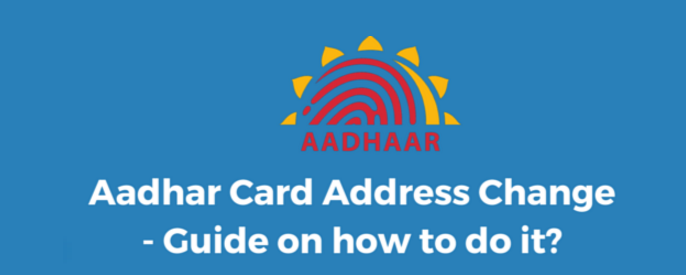 How to apply for Aadhar card address change
Why do you need to apply for aadhar card address change if it's not that important? With over 1.2 billion enrolled members as of 15th August 2017, the Aadhar system is the world's largest biometric ID system. It was claimed to be "the most advanced ID program in the world by the World Bank Chief Economist Paul Romer. Till now, more than 99% of people above 18 years of age have been registered in this system, which is quite impressive for a country with a population size of India.
The Unique Identification Authority of India (UIDAI), a statutory authority established on 12 July 2016 by the Government of India assigns a 12 digit unique identification number to all the citizens of India, called the aadhar number on the basis of bio-metrics as the number is linked to the resident's basic demographic and biometric information such as a photograph, ten fingerprints, and two iris scans, which are stored in a centralized database.
However, the aadhar is not a proof of citizenship in India and hence, you cannot get a domicile on the basis of the aadhar card alone. Also, aadhar is a voluntary and not mandatory service, thus it is not the compulsory proof for any registration process, even though having one can save a lot of hassle in registration procedures. Even the supreme court has said that the aadhar is not mandatory for availing benefits from the government under the welfare schemes. However, linking the aadhar card to one's PAN card and/or bank account is made mandatory by the government of India recently.
The Unique Identification Authority of India (UIDAI) is a statutory authority established on 12 July 2016 by the Government of India under the Ministry of Electronics and Information Technology, under the provisions of the Aadhaar Act 2016. The Unique Identification Authority of India (UIDAI) was initially set up by the Government of India in January 2009, as an attached office under the aegis of Planning Commission vied its a gazette notification. As per the notification, the UIDAI was given the responsibility to lay down plans and policies to implement the UID scheme, to own and operate the UID database and be responsible for its update and maintenance on an ongoing basis.
We hope that with the help of this article you were easily able to apply for aadhar card address change.
FAQs on Address update?
Q1: What is the procedure to change my mobile number?
Ans: You can change your mobile number online by visiting the official website and entering your current mobile number and you will an OTP for confirmation,  or you can visit the Enrolment center to change it.
Q2: Which details of my Aadhaar card can be updated online?
Ans: You can update your Name, mobile number, Address, Date of birth via online.
Q3: What is the process of registering my mobile number to update changes online?
Ans: The process is simple, you have to visit your nearby Aadhaar enrolment center,  collect the Aadhaar enrolment or correction form, fill up your phone number in it and submit it to register it and then you can access update changes online. Proofs for registering your mobile is not necessary.
Q4: Is it possible that my application request could be rejected?
Ans: Yes, your update request can be rejected if you provide invalid details or not submitting details that are not accepted by UIDAI.
Q5: Within how many days I will receive my Aadhaar card after address update?
Ans: After the update, your Aadhaar card will be delivered to you within 90 days to your current residence but for your safety, you can check it online.
Q6: Is there any option that I can submit my update request in my local language?
Ans: UIDAI provides you the option to submit your update request in any language which makes you comfortable. Language is not a big factor while updating your Aadhaar card details.